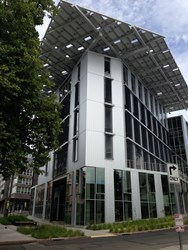 The Bullitt Center is a beacon for the industry and inspiring example of how high design and high performance can be fused in building.
Seattle, WA (PRWEB) August 28, 2013
Construction company Hammer & Hand announced today that it is moving its Seattle building and remodeling office to the Bullitt Center, the recently-opened Living Building Challenge project on Seattle's Capitol Hill. Described as "the greenest commercial building in the world," the Bullitt Center has quickly become a paragon of green building, garnering international attention for its scope and ambition.
"The Bullitt Center is a beacon for the industry and an inspiring example of how high design and high performance can be fused in building," said Hammer & Hand CEO Daniel Thomas. "We're excited to base our Seattle operations there and to become part of its community of like-minded organizations."
Sometimes referred to as the "moon shot" of green building, the Living Building Challenge groups its certification requirements into seven demanding "petals": Site, Water, Energy, Health, Materials, Equity, and Beauty. Designed by the Miller Hull Partnership and built by Schuchart, the Bullitt Center promises to deliver on these requirements, achieving net zero energy use, net zero water use, 100% waste water treatment onsite, and a host of other deep green goals contained within the "petals." A year of rigorous monitoring of the occupied building will ultimately determine its status as a Living Building.
Hammer & Hand is a vocal proponent of Passive House approach to construction, but it sees the Living Building Challenge as a natural complement to that green building standard.
"The Living Building Challenge and Passive House are inherently complementary certifications," said Hammer & Hand President and Certified Passive House Consultant Sam Hagerman. "Passive House's emphasis on design simplicity to transform building energy performance provides an elegant way to achieve the energy petal of the Living Building Challenge. And the Living Building Challenge provides a holistic approach to deep green building that rounds out Passive House's laser-like focus on energy."
The Bullitt Center is located on 15th Avenue and East Madison Street on Seattle's Capitol Hill. Hammer & Hand's office space will be Suite 250. Nancy Burfiend of NB Design Group (interior designer) and Steve Doub of the Miller Hull Partnership (architect) are designing the build-out and Hammer & Hand is building it. Meanwhile, as work progresses, the company's offices are housed in temporary work-share space on the building's fourth floor.
About Hammer & Hand
Hammer & Hand is a Portland and Seattle construction company dedicated to inciting evolution in building through service, science and craft – building spaces that sustain and delight by empowering employees, harnessing 21st century building science, and advancing the tradition of craftsmanship. The company's scope ranges from classic kitchen remodeling to high design custom home building to modernist Passive House construction.
Hammer & Hand
1501 E Madison St, Suite 250
Seattle, WA 98122
http://hammerandhand.com
(206) 397-0558