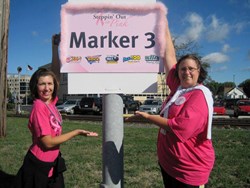 I have had family members diagnosed with breast cancer.
La Crosse, WI (PRWEB) August 28, 2013
Next month, pink will become a fashion statement when doctors and staff from Neighborhood Smiles gather to participate in an upcoming Steppin' Out in Pink event in Wisconsin. This fund-raiser will raise money and awareness for breast-cancer research in La Crosse and take place Sept. 7.
"I am good friends with a breast-cancer survivor named Anne Heath," said one of the doctors who plans to participate in the event, Dr. Ryan Yakowicz of Neighborhood Smiles in La Crosse. "Anne is a community health educator and a remarkable woman, and I am going to walk in honor of her courage and perseverance."
In all, seven staff members from the La Crosse office will participate, including office manager, Sara; dental assistant and administrator, Barb; dental assistants, May and Shannon; and registered dental hygienists, Kathleen, Rebecca, and Jessica.
"Too many friends and family are affected by this terrible disease," added Dr. Karen Spitzer, the founding dentist in the La Crosse office. "I am proud of our team supporting this important cause."
Proceeds from the event will fund breast-cancer research initiatives at Gundersen Medical Foundation as well as go toward subsidizing mammograms for the uninsured and underinsured patients in Wisconsin and provide assistance to breast-cancer patients in need. They will also go toward supporting the services of the Center for Cancer & Blood Disorders and Norma J. Vinger Center for Breast Care.
Two staff members from the Waterloo Heights office in West Salem (a Neighborhood Smiles Practice) will also join the event; they include office manager, Susan, and office administrator, Monica.
"I have had family members diagnosed with breast cancer," said Susan. "The disease is so prevalent. That is why I support Breast Cancer awareness."
The eighth-annual event kicks off at 9 a.m. at the campus of Gundersen Lutheran Medical Center in Wisconsin with participants walking a 4.5-mile walking trail. For more information, go to http://www.steppinoutinpink.org/faf/home/default.asp?ievent=1059919. Volunteers will provide motivation, refreshments, and first aid.
About Neighborhood Smiles:
Neighborhood Smiles provides private practice dental care in La Crosse, Onalaska, and West Salem, Green Bay, Belleville, and Oconomowoc. Doctors at all these facilities pride themselves in providing personalized, individual care. For more information about Neighborhood Smiles, visit http://www.smileswisconsin.com. The site also provides dental information, advice, and blog posts. Neighborhood Smiles can also be found on Facebook and Twitter.
###