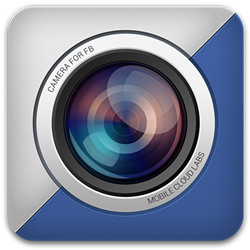 Camera for Facebook is what other photo sharing apps were meant to be- an instant online photo sharing solution for Facebook
London, UK (PRWEB) August 27, 2013
Mobile Cloud Labs Plc., developers of high-quality applications for smartphones, handheld devices and portable computers, today announced the release of Camera for Facebook; a new Android application, which is designed for Android devices version 3.1 or newer, that allows users to automatically add photos to their Facebook album instantly as they take them. The new Camera for Facebook app is available for Android devices on Google Play.
Mobile Cloud's Camera for Facebook simplifies taking photos and uploading them to Facebook. Unlike other applications that require multiple steps to login, access the appropriate photos, and upload them to share on Facebook, Camera for Facebook has streamlined the process to two steps. All the user has to do is open the app and take a picture; the picture is then automatically uploaded to the designated album on Facebook.
"Camera for Facebook is what other photo sharing apps were meant to be- an instant online photo sharing solution for Facebook," said Richard Sylvester, CEO of Mobile Cloud Labs Plc. "Where other apps can require a significant number of steps to access and share a Facebook photo, Camera for Facebook lets users shoot and share with one touch. No other application offers the same capabilities and flexibility or makes sharing photos so fun and easy."
Camera for Facebook lets users select an existing album to capture photos, or create a new album. Albums can be designated as public, private or friends only, so users can share photos instantly or select and share them from Facebook at a later time.
The app brings amazing camera features to Android devices, including a normal camera mode that takes photos at the perfect resolution for Facebook. It also features a burst camera mode that takes instant pictures at a lower resolution for action shots or photos that need a faster shutter response. Camera for Facebook also features four flash settings for supported devices, and supports all cameras on the device (front and back). Along with this Camera for Facebook brings a full-screen function with grid support to make framing and taking photos easier.
Camera for Facebook also allows users to set the app for instant upload, or upload delay so they can modify or delete photos, and there's a setting to designate Wi-Fi only uploads to save on cellular data. While previewing an image before or during upload Camera for Facebook allows users to add captions to the photo and change the album the photo is being uploaded to at the last moment.
You can get Camera for Facebook on Google Play here.
About Mobile Cloud Labs Plc:
Mobile Cloud Labs are developers and marketers of high-quality applications for smartphones, tablet computers, and laptops with offices in Switzerland and the United States. The company is currently developing new location-based applications booming mobile advertising market, delivering messages with pinpoint accuracy to open up new marketing and point-of-sale strategies. The company is also developing new smartphone users to help them get more from their mobile social media experience.