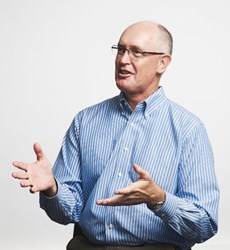 The PanelPicker is a great way for the SXSW community to learn more about, and have a say in, what makes it to SXSW 2014.
Austin, TX (PRWEB) August 28, 2013
SXSW Interactive may be half a year away, but public voting on which panels make the grade is underway via the SXSW PanelPicker. Voting concludes Friday, September 6. Austin-based digital-centric marketing agency nFusion has a pair of panels up for consideration for the 2014 industry festival.
The first, led by CEO John Ellett (author of "The CMO Manifesto: A 100-Day Action Plan For Marketing Change Agents"), asks if you've got what it takes to be a 21st century CMO. "It's not easy being a marketing leader," says Ellett, "but it's even more challenging when the world is moving faster than your company." Ellett offers insight into how to speed up and improve the way your brand connects with today's digitally enabled socially connected customer.
See the PanelPicker for more about Ellett's proposed SXSWi panel, "The C in CMO Stands for Cojones".
In the second panel nFusion VP of Interactive Planning and Digital Operations Steve Callahan is joined by nFusion's social strategist Adam Holzband for a look at the wild frontier of social media marketing. Says Callahan, "We've got years of experience helping brands of all sizes engage in the social space. We'll share our experiences (good and more pained) activating brands in social media so panel attendees can avoid minefields and lean toward success." Attendees are invited to "Jump onto the Social Brand Wagon" for Callahan and Holzband's pragmatic guidance.
See the PanelPicker for more about Callahan and Holzband's proposed SXSWi panel, "Jump onto the Social Brand Wagon"
To be eligible to vote via the SXSWi PanelPicker, voters must have signed up first (registering for log-in credentials and voting are free of charge).
About nFusion
nFusion is a digital-centric marketing agency that partners with marketing change agents to revitalize brands, transform a company's digital presence and accelerate sales. With an agile and collaborative approach, nFusion's team of multi-disciplinary specialists helps brands maximize the effectiveness of paid, owned and earned media, so marketers can make an immediate and measurable impact. Headquartered in Austin, Texas, nFusion's B2B and B2C clients include AMD, Anheuser-Busch/InBev, CiCi's Pizza, Comerica Bank, Samsung, Sonus Networks, Rush Enterprises and Zimmer Spine. nFusion can be found online at nfusion.com, and on LinkedIn, Facebook and Twitter.