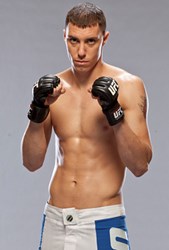 Boston, MA (PRWEB) August 27, 2013
Lloyd Irvin Martial Arts Academy is back in the UFC spotlight once again, with professional MMA fighter James Vick making his UFC debut in Boston earlier this month. Head coach, Lloyd Irvin, is also cornerman to UFC veterans Mike "The Hulk" Easton, batamweight champion Dominic Cruz, Phil "Mr. Wonderful" Davis, and Alexander Gustafson.
Lloyd Irvin first met James Vick as a coach of The Ultimate Fighter reality show filmed in Las Vegas last year. Vick was a member of Team Cruz, coached by Dominic Cruz, Eric Del Fierro, and Lloyd Irvin. Irvin spotted the young fighter early on, and despite having only 3 professional fights, he saw potential. Irvin vied to have Vick on the team and the young James did quite well, reaching the semi finals of the elimination style reality show.
After the show, attracted by Irvin's style of coaching, James switched his camp and began training full-time with Lloyd Irvin Martial Arts Academy. However, Vick suffered a shoulder injury that sidelined his UFC debut for over year. Finally, after a surgery and lots of patience, James made his official UFC debut in Boston, Massachusetts on August 17, 2013 vs Ramsey Nijem. James was the heavy underdog according the Vegas numbers. Most though Nijem would outwrestle and outwork the rookie.
They were wrong. With Master Lloyd Irvin as his head coach, Vick was well prepared for the wrestler. When the bell rang, Nijem shot in for a takedown right away, Vick defended the initial shot, but Nijem pressed on. Nijem managed to put Vick down, but only briefly. James got to his feet, but Nijem was still digging for the double leg, that's when Vick set up the submission. While Nijem was so focused on the takedown, he left his neck out, and James locked in a modified guillotine choke. Nijem tried to back out, but it was too late, James sprawled and rolled on top with the choke locked in and submitted his opponent at 0:58min of the very first round.
James was nominated for Submission of the Night, but did not bring home the bonus prize. Vick will take a few days off to relax and recover and will soon be back to camp at Lloyd Irvin Martial Arts Academy in Camp Springs, MD.
For more information on Lloyd Irvin Martial Arts Academy, please call 301-449-KICK or visit http://www.LloydIrvin.com/.