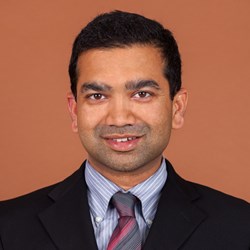 Downey, CA (PRWEB) August 26, 2013
Committed to providing top notch patient care, Dr. Farooq joins the practice with a firm foundation of research on a wide variety of cancer studies. Having received his medical education at Nishtar Medical College in Multan, Pakistan, Dr. Farooq then completed his Internal Medicine residency at the University of Tennessee Health Science Center in Memphis, TN and his Hematology and Oncology Fellowship at Roswell Park Cancer Institute / University at Buffalo (SUNY) in Buffalo, NY, which is considered one of the top 50 cancer hospitals in the United States. Dr. Farooq has been involved in many research projects and presentations, authoring and co-authoring 6 manuscripts and 17 abstracts with a wide range of topics that include head and neck cancer, gastrointestinal cancer, lung cancer, and breast cancer. Receiving the "Tsuguo Naruke Award" for a research paper he co-authored in 2009, Dr. Farooq's research contributions have been well received at national cancer conferences and it is with that knowledge and dedication he brings to the practice to treat patients, improve survival rates, and to enhance their overall quality of life.
Humanistic in his approach, Dr. Farooq tries to find the perfect balance between practicality and professional insights without sacrificing any attentiveness towards his patients.
In his spare time, Dr. Farooq enjoys playing cricket, watching movies, and spending time outdoors with his wife and son.
Dr. Farooq is fluent in Punjabi, Urdu, and Hindi.
Dr. Farooq will be joining thirteen other physicians on staff at The Oncology Institute of Hope and Innovation starting July, 2013.
About The Oncology Institute:
The Oncology Institute of Hope and Innovation is committed to providing superior, compassionate and state-of-the-art medical care. Offering programs to help patients and families cope with the challenges that are brought on by cancer and strive to optimize their quality of life, comprehensive and realistic treatment goals are tailored to every person's unique needs and decided upon in partnership with the patients and their families. Dedicated to excel in cancer prevention, diagnosis and education through our exceptional team of physicians, nurse practitioners, nurses, medical assistants and office staff, The Oncology Institute of Hope and Innovation has 9 Southern California locations in the cities of Anaheim, Covina, Downey, Glendale, Long Beach, Lynwood, Montebello, Torrance, Santa Ana, and Whittier. For more information please visit http://www.theoncologyinstitute.com.