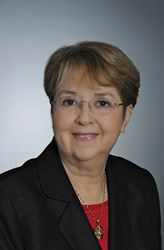 I am from Houston. It is the city I grew up in. I have been very fortunate to have the opportunity to positively influence education policy in Houston thus far. I hope that HCCS District 3 gives me that opportunity again
Houston, Texas (PRWEB) August 27, 2013
Herlinda Garcia has officially announced her intention to run for Houston Community College Trustee for District 3, a seat that she currently holds.
As a member of the Houston Community College Board of Trustees for fourteen (14) years from 1989 through 2003, Ms. Garcia served as Chairman of the Board in 1996 and was instrumental in broadening access to HCCS. As an advocate of children and community education, Garcia is seeking reelection in the November 2013 election.
She has had a very successful career as an administrator in the Houston Independent School District. In recognition of her effort and dedication, Superintendent, Dr. Terry Grier recently recognized Garcia for her campus leadership and named her one of the most effective principals in HISD. Most recently, Garcia was promoted to Lead Principal at HISD.
"I am from Houston. It is the city I grew up in. I have been very fortunate to have the opportunity to positively influence education policy in Houston thus far. I hope that HCCS District 3 gives me that opportunity again," stated Garcia.
Garcia continued, "Last November, residents of the HCC district voted for the $425 million bond referendum. When re-elected, I will make sure that the operations of the college are transparent and fair."
Garcia is a long time Houston resident that has served on numerous boards and committees throughout the Houston area. She earned both her bachelor's degree and master's degree from the University of Houston. The YWCA has recognized Garcia as an "Outstanding Woman in Education. The Houston Hispanic Chamber of Commerce awarded Garcia the Triunfando Award for Educational Excellence, and the National Hispanic Business Magazine named Garcia as "one of the most influential Hispanics in education.
Houston Community College is the largest community college in Houston metro area. They provide workforce training, continuing education and other innovative services to the ever-growing community in Houston and surrounding cities. Trustee Garcia was appointed to the board in January of 2013 by the HCC Board of Trustee to file the vacancy created by State Representative Mary Ann Perez.
Paid for by the Herlinda Garcia Campaign, Treasurer Greg Compean