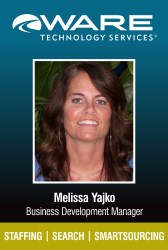 We believe our clients will appreciate her expertise, professionalism and dedication to fulfilling their engineering staffing needs. - Susan Rylance, Sr. VP of Professional Services, Atterro
Minneapolis, MN (PRWEB) August 27, 2013
Ware Technology Services, an Atterro company, is pleased to welcome Melissa Yajko as its newest Business Development Manager in its Minneapolis office. In her new role, Ms. Yajko is responsible for new customer acquisition and customer retention as well as promoting the value and services provided by Ware Technology Services, an engineering recruiting firm.
Ms. Yajko brings more than 20 years of sales, business development and sales management experience to her new position, with a broad background in the vacation industry and in the office supply business as well as in staffing. During her career, she has been both an individual contributor and has held leadership positions. Ms. Yajko has been the recipient of multiple leadership and sales awards.
Susan Rylance, Senior Vice President of Professional Services at Atterro states, "It is a pleasure to welcome Melissa to the Ware team in Minneapolis." She adds, "We believe our clients will appreciate her expertise, professionalism and dedication to fulfilling their engineering staffing needs."
Atterro Human Capital Group offers interim staffing, search and SmartSourcing services to local, regional and national customers. Atterro's experienced industry professionals utilize the latest research, recruiting technology and assessment tools to serve clients through its five specialty brands—Digital People for Creative, Interactive and Marketing, Hunter Hamilton for Finance and Accounting, Pro Staff for Administrative and Light Industrial, Technical ProSource for Information Technology, and Ware Technology Services for Engineering. Visit http://www.atterro.com.
Contact:
Steve Brentlinger
Marketing Director
email: Steve(dot)Brentlinger(at)atterro(dot)com
ph. 612‐373‐2600
Atterro Human Capital Group
651 Nicollet Mall, Suite 525
Minneapolis, MN 55402
http://www.atterro.com