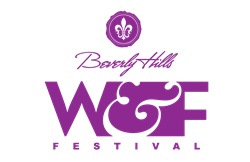 This is where Champagne Wishes and Caviar Dreams come true
Beverly Hills, CA (PRWEB) August 27, 2013
The Beverly Hills Wine & Food Festival confirms dates and sponsors for the next episode of fun and extravagance in the city known for being the western world's seat of opulence. Nobody parties like Beverly Hills. And nobody throws a better party than the Beverly Hills Wine & Food Festival. This year organizers have announced that the festival will feature offerings from the private reserves of the finest producers of wine & spirits, and are to be accompanied by the culinary talents of only the most exceptional restaurants. Confirmed sponsors include the world famous MR CHOW, Tom Colicchio's Craft Los Angeles, Beverly Wilshire A Four Seasons Hotel, Jean Marie Auboine Chocolates, THE Blvd Restaurant, 9021PHO, DeLuscious Cookies & Milk, GoodieGirls, Pacific Dining Car, STK Los Angeles, Bagatelle LA, visionary pet care brand John Paul Pet and Celebrity Cruises.
In recent years, proceeds from this event have been donated to further the efforts of groups such as Fran Drescher's Cancer Schmancer Movement, and St. Jude amongst the many.
Patrons have the unique opportunity to experience guilt-free opulence while benefiting charities and organizations that have made measurable strides in helping the less fortunate.
For further information and to reserve your tickets to this sell-out event, visit http://beverlyhillswineandfoodfestival.com . Give yourself the gift of experiencing the finest food & wine that Beverly Hills has to offer, while you help create positive change in the world.