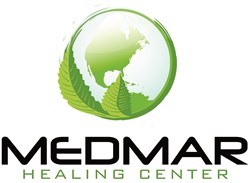 Our goal this year is to get over 100 blood donors so that we can save well over 200 lives.
(PRWEB) August 27, 2013
MedMar Healing Center will be holding a blood drive on Saturday, September 28, 2013 to help save countless lives of those in need. The blood drive will be held from 11:00 a.m. to 4:00 p.m. at their location in downtown San Jose at 170 S. Autumn Street. There will be two bloodmobiles on site in front of the dispensary. MedMar Healing Center is currently taking donation reservations for those who want to help save lives in the community and beyond.
"Our goal this year is to get over 100 blood donors so that we can save well over 200 lives," explains Douglas Chloupek of MedMar Healing Center. "We believe this is an attainable goal if our members, along with the rest of the community, come together to make a difference and donate. It's something you will never regret doing."
All MedMar Healing Center members who donate will have the opportunity to play a game where they are guaranteed to win free meds, with prizes that include a free top shelf 1/8, edible, or pre-roll. Blood Centers of the Pacific will also be giving all donors a blood drive T-shirt, 1,000 "Hero Points," which can be redeemed for two movie tickets or other rewards, and two free tacos from an on-site taco cart. Hero points are added to donor profiles within a week of their blood donation, and then can be redeemed for rewards. Reservations can be made by calling MedMar Healing Center at (408) 385-9600, or online at: https://www.bloodheroes.com/index.cfm?group=op&expand=540627&zc=95110
Blood donation is a seemingly small act that actually has a large impact on society. According to the American Red Cross, one blood donation can save up to three lives. Every two seconds there is someone in the country who needs blood. Every day 44,000 blood donations are needed in order to help those in need. Just one car accident victim can require as much as 100 pints of blood. Blood cannot be manufactured, making donations of it crucial in helping others around the country.
Anyone can be screened for blood donation. All blood collected at the bloodmobile is later tested before being released to hospitals, for such things as infectious disease, hepatitis B and C, syphilis, and HIV.
"This is an easy way to give back and help save lives," added Chloupek. "We look forward to our annual blood drive and hope that we get a great turnout of people. It's just one more way that we try to give back to our community."
MedMar Healing Center engages in a variety of charitable activities throughout the year that supports the community. Just recently they participated in a food drive to benefit the Second Harvest Food Bank. Last Christmas they also participated in a food drive that helped raise over 1,800 pounds of food, and another two years ago that resulted in over 10,000 pounds of food being collected.
MedMar Healing Center provides a full range of medical marijuana products for Prop 215 patients, flowers, concentrates, edibles, tinctures, and more. For more information, visit http://sjmedmar.com, or call (408) 385-9600.
About MedMar Healing Center
Located in downtown San Jose, MedMar Healing Center has been dispensing high-quality medical marijuana to Prop 215 patients since 2010. Their menu of medical marijuana products includes waxes, kief, bubble bag hash, oil, flowers, concentrates, edibles and tinctures. Their mission is to provide medical marijuana in a local, affordable and safe environment. They are also committed to giving back to the community by engaging in such things as food drives, blood drives, and supporting other initiatives. For more information, visit their Website at http://sjmedmar.com.