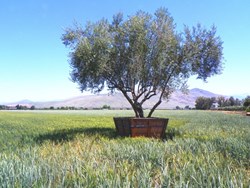 Santa Barbara, California (PRWEB) August 28, 2013
Eye of the Day Garden Design Center has announced that it is becoming the first "Vecchio Station" for Vecchio Trees, enabling customers to conveniently purchase directly from the grower through Eye of the Day. Vecchio Trees provides field grown olive trees in various varieties and trunks up to 8' in diameter. Premium trees, designated "Vecchio Gold" are available as one-of-a-kind specimen trees and all trees can be delivered typically within five working days. Also available are mature citrus, fig, pomegranate, Italian Cypress and almond trees, which will add a timeline to any property's landscaping. Eye of the Day will be working closely with customers and Vecchio Trees' staff to identify, tag and deliver.
Eye of the Day is located in southern Santa Barbara County, and features European and American garden décor. The headquarters boasts a wide selection of Italian and Greek terracotta planters and pottery, French Anduze pottery, and is also the largest stocking distributor of Gladding McBean (USA) glazed terracotta pottery.
The Carpinteria-based headquarters also offers a trade program designed for landscape, garden, and architectural design professionals, featuring a private website with information about manufacturers, specific lines, dimensions, and pricing for easy and convenient browsing.
Husband-and-wife owners, Brent and Suzi Freitas, established Eye of the Day in 1995 by first selling oak wine barrel planters. They gradually added a retail garden shop and expanded to include an assortment of items including benches, fountains, planters, statues and other landscape design accessories. Eye of the Day's clients center include Tommy Bahama, Ralph Lauren, ABC Carpet & Home, Woodside Hotel Group and Thomas Properties. Eye of the Day recently operated a Pop-Up store at the Stanford Shopping Center in Palo Alto, California and has also been featured on the DIY Network. The center also customizes items with finishes, glazes, antique treatments, fountain conversions, and more.
About Eye of the Day Garden Design Center
Eye of the Day Garden Design Center is a retail showroom that features more than an acre of high quality garden landscape products, including Italian terracotta pottery and fountains, Greek terracotta pottery, French Anduze pottery, and products from America's premier concrete garden pottery and decoration manufacturers. Eye of the Day is a leading importer and distributor of fine European garden pottery, and caters to private consumers and landscape design and architecture firms around the world.