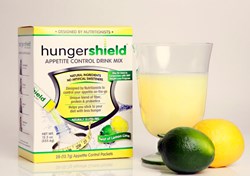 Many folks don't have the tools to live healthier and then they are surrounded by temptation like inexpensive fast food or choosing the wrong thing when they are over hungry.
New York, NY (PRWEB) August 28, 2013
A recent study published online on August 15th in the American Journal of Public Health says obesity is the cause of nearly one in five American deaths. "This study emphasizes the importance of preventing childhood obesity, as the risk of health consequences are greater the more years a person is in an obese state," comments nutritionist and HungerShield co-founder Elizabeth DeRobertis, MS, RD, CDE, CDN. "This research supports the fact that recent efforts to address childhood obesity are focusing in the right place," she adds.
"We see in our practice daily the negative health consequences of obesity, including diabetes, heart disease, high cholesterol, high blood pressure, and even some forms of cancer. We also see that weight loss can help to reverse or prevent many of these conditions. It is not surprising to us, as Registered Dietitians, that obesity is linked to higher mortality rates, given the health risks it creates. On a positive note, we also see that with the right education, much of this can be reversed," DeRobertis comments.
Earlier risk of obesity comes partially from the food environment in which we live, which includes super sized portions, high calorie processed foods, and easy access to caloric drinks and high calorie meals and snacks. There are things that a family can do to help address or prevent obesity, as well as help their children to form habits for a lifetime of healthy weight management.
"We are in a society that craves quick fixes. The practice of living a healthy lifestyle is a marathon, not a sprint and it involves the whole family and starts at a young age. Many folks don't have the tools to live healthier and then they are surrounded by temptation like inexpensive fast food or choosing the wrong thing when they are over hungry." DeRobertis offers solutions which can be found using key strategies:
Snack strategically. "Going too long without eating puts most people at risk of overeating, or grabbing a less healthy 'quick-fix.' A great tactic is to always carry a few healthy snacks with you, especially when you are on-the-go. Snacks should be about 100 calories each, and be nutrient dense, meaning they provide some protein or some fiber to feel full longer. Some ideas include a 0% Greek yogurt, a piece of fruit, a cheese stick, or a high fiber granola bar. Plus, HungerShield, an all-natural appetite control stick pack, is easy to carry on-the-go. You simply add to water the pre-portioned drink mix to curb your appetite in between meals."
Stay hydrated. "Many people think they are hungry when they are actually thirsty. Making sure to drink enough water during the day is important, as long as those drinks are not high in calories. Often kids and adults will drink high calorie drinks, especially after playing sports, and they rarely need those extra calories. They certainly don't need them on a day they are not active. So switching drinks to low calorie or calorie-free options is the way to go."
Know the MPD. "Calculate the maximum potential damage or 'MPD' of the food packages you buy. This means calculate the calories of the whole package. If you feel you may be at risk of eating 800 calories in one sitting (which is the amount of calories in a large bag of Pita Chips), make sure to only buy packages that are 100 calories, especially when it comes to snack foods, like nuts or popcorn."
Keep a safe food environment. "Reduce the MPD of the foods that you buy for your home, but also stay well stocked with healthy and convenient options. Keep them in plain sight. Skip having cookies on the counter. If there is a bowl of fruit or some crunchy veggies out, your family will be much more likely to grab that."
About HungerShield
HungerShield is an innovative appetite control drink mix created by four registered dietitians, Elizabeth DeRobertis MS, RD, CDE, CDN Heather Zeitz RD, CDN, Elizabeth Pecoraro MS, RD, CDN and Dafna Chazin MS, RD, CDN. HungerShield is the only product on the market designed specifically to curb appetite through a unique blend of high quality and natural ingredients, including protein, fiber and probiotics. It is also the only product in this category that was created by healthcare professionals. It can work with any diet plan. For more information about HungerShield, a list of locations where it is sold, or to purchase it online, please visit http://www.hungershield.com. You can follow HungerShield on Twitter @HungerShield and on Facebook.