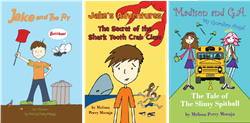 These children's chapter books are a great read for any child.
Charlotte, NC (PRWEB) August 27, 2013
For the first time, Melissa Perry Moraja is giving away all three Wunderkind Family Children's Books in the Best of Summer 2013 Kid Lit Giveaway! The giveaway runs from August 26 to September 6, 2013.
The Wunderkind Family series is a collection of humorous, modern-fantasy stories, each told by one of the four whimsical Wunderkind sibling characters. The captivating narrative delves into tales of growing up as kids with extraordinary abilities in an unusual, yet charming family.
In the first two books (Jake and the Fly and The Tale of the Shark Tooth Crab Claw), Jake Wunderkind, the sci-fi whiz kid sibling, shares his humorous ten-year old adventures, being the oldest and living in a family filled with rules. In the third Wunderkind Family book (The Tale of the Slimy Spitball), sweet and sassy Madison Wunderkind shares her comical life, growing up with a klutzy, curious guardian angel that only she can see and hear. This story teaches young readers that no one is perfect. Not even Madison's angel is perfect.
To enter this exciting giveaway please visit Melissa's blog http://www.notyourordinarypsychicmom.com.
This fall, Melissa Productions, Inc. will bring back the Wunderkind Family and all of their quirky antics for a fourth children's book. The fourth Wunderkind Family story Tale of the Messed Up Talent Show , will be released November 15, 2013.- The story is narrated by Madison Wunderkind, who finds out being popular isn't all what it's cracked up to be.
About Melissa Productions, Inc.:
Melissa Perry Moraja is an entrepreneurial mom, a multifaceted business woman and a creative producer, authoring and illustrating numerous children's stories and self-help books. Founded in 2009, Melissa Production's mission is to offer humorous, inspirational products and services that promote self-awareness, creative learning, and leadership with the family in mind.With popular story book characters like Splatter, she speaks to children's hearts through humor and parents thoughts by providing educational stories. For more information, please visit http://www.melissaproductions.com.
About Kid Lit Summer Giveaway
The Kid Lit Summer Book Giveaway is hosted by Youth Literature Reviews and Mother Daughter Book Reviews. This giveaway hop is an opportunity for a community of kid lit bloggers, teen lit blogger, authors, and publishers to come together and share their favorite books of the summer! There are almost 70 great giveaways as part of this hop!
Contact:
Melissa Perry Moraja
Founder and CEO, Melissa Productions, Inc.
704-246-7304
http://www.melissaproductions.com