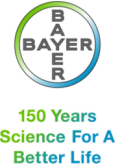 "We believe that agriculture in the future must and will include more women, minorities and people with backgrounds in business, science and technology," said Inci Dannenberg, vice president, Commercial Operations.
DECATUR, Ill. (PRWEB) August 29, 2013
Executives from Bayer CropScience today addressed the need for a New Revolution in Agriculture to tackle critical challenges the agricultural industry is facing now and into the future.
"Food security is critical to the health and well-being of our world. With a fast-growing world to feed and clothe, Bayer is leading a New Revolution in Agriculture, one that is grounded in innovation and collaboration," said Jim Blome, president and CEO of Bayer CropScience LP. "Bayer is developing solutions to help growers worldwide address urgent issues, including water scarcity, herbicide-resistant weeds and the need to maintain and increase crop yields."
Blome spoke at the 2013 Farm Progress Show in Decatur, Ill., where the company's booth "One World to Grow On," highlights solutions that help growers achieve success, from planning and planting through harvest. The interactive exhibit identifies four pivotal decision-making times in the growing season―Plan for Success, Establish a Healthy Crop, Maintain the Potential and Successful Harvest—and provides technical information on flagship brands, as well as tips for producers to maximize decisions at each stage.
The company's integrated solutions are the result of innovation both in the laboratory and the field, and reflect Bayer CropScience's investment in traditional chemistry, biologics and seeds, he said.
Leading a New Revolution in Agriculture
As Bayer celebrates 150 years of Science For A Better Life, it is propelling the future of farming through focused research, as well as cultivating ideas and answers with customers, communities and other stakeholders.
Earlier this year Bayer CropScience unveiled a five-point plan, developed under Chief Executive Officer Liam Condon (Presentation), to help achieve a significant and sustainable increase in agricultural production worldwide. The plan calls for Bayer to lead innovation, enable farmers big and small, drive a sustainable intensification of agriculture, enhance human health and extend partnerships.
Innovation was a central theme of Blome's remarks.
"Research is key, not only to the success of our business, but also to enhancing food security in the United States, North America and worldwide," Blome said. "We put 10 percent of our earnings straight back into the lab―where each project takes us a step closer to our objective of ensuring healthy food and fiber."
In North America, the company has invested more than $40 million in the past 18 months to expand research operations at its North Carolina headquarters, including:

Greenhouse 5, a 60,000 square-foot research facility focused on corn, soybeans and other broad-acre crops.
40,000 square-foot Development North America facilities and laboratories, where nearly 70 scientists conduct crop protection and environmental science research and serve as the global center for seed growth formulations.
The North American Bayer Bee Care Center is scheduled to open early next year and will focus on Integrated Pest Management and the multiple factors impacting the health of honey bees. It is the second established by the company to promote bee health. In 2012, a global Bayer Bee Care Center was established at the joint headquarters campus of Bayer CropScience and Bayer Animal Health in Monheim, Germany.
The company recently purchased nearly 70 acres near its campus in Research Triangle Park to allow for future expansion.
Bayer executives also shared examples of Bayer CropScience innovation, including:
New soybean trait Balance® GT, which is tolerant to both glyphosate and to Balance® Bean, an isoxaflutole-based herbicide. This double herbicide-tolerant trait stack is packed in high-yielding elite genetics for premium performance.
Weed management tools—for example Liberty Link® with Liberty® herbicide, an innovation in traits across a variety of crops such as canola, cotton, corn and soybeans―allow growers to manage weed pressures with the varieties that fit their growing conditions.
Poncho®/VOTiVO® seed treatment, which combines an insecticide and a biological mode of action with a unique bacteria strain that lives and grows with young roots to protect soybeans and other crops.
Fully-automated seed treatment system On Demand™ and the opening of 10 global SeedGrowth™ centers to support and train seed treaters on, for example, how to achieve exact treatment dosages and reduce dust abrasion with coatings.
They also discussed flagship brands, such as Corvus® pre-emergence corn herbicide, which provides consistent one-pass grass and broadleaf weed control all season long, and Stratego® YLD fungicide, which gives corn and soybean farmers all-around plant coverage for proven disease control and higher yield potential.
Integrated Solutions to Enhance Food Security
Another key to enhancing food security is increased global wheat production, noted David Hollinrake, vice president of Agricultural Commercial Operations Marketing.
"Wheat is the world's most widely grown crop, comprising 25 percent of the world's cereal crops, but wheat productivity is increasing at less than one percent a year while demand is growing at twice that rate," Hollinrake said. "Bayer wants to become the provider of choice to wheat growers by offering superior solutions from seed to shelf, including seeds, traits and crop protection products and services."
Hollinrake also discussed integrated solutions in North American SeedGrowth, which encompasses service, technology, equipment and applications. The On Demand system, for example, is the first and only fully automated, enclosed treatment system developed to make treating seeds easier, more accurate and more efficient.
"The On Demand system allows commercial downstream treatment of soybean and other seeds, and allows growers to move quickly from treating seeds to planting," Hollinrake said.
To support solutions like On Demand, Bayer recently opened 10 SeedGrowth centers around the globe to address the unique challenges growers experience related to their crops in their part of the world such as weather, soil conditions and pests.
"Now growers from Brazil, France, Illinois and other parts of North America, South America, Europe and Asia-Pacific have access to the same seed-treatment expertise through these centers, which provide continuing solutions and education," said Hollinrake.
Supporting the Future of Farming
Producing more food to feed a hungry world, while also supporting the world's existing resources, will require additional human resources. This is a key reason Bayer CropScience is committed to helping to nurture the next generation of farmers, scientists and researchers.
"Bayer CropScience recognizes the challenges of recruiting the next generation and is committed to doing our part to ensure that the future of farming is in good hands," said Inci Dannenberg, vice president, Commercial Operations. "We believe that agriculture in the future must and will include more women, minorities and people with backgrounds in business, science and technology."
In addition to its support of traditional youth agricultural programs, such as the National FFA Organization―at national and regional levels―Bayer sponsors an annual award to recognize young farmers who practice sustainability.
The Young Sustainable Farmer award highlights young farmers who demonstrate excellence in sustainable growing practices and business and environmental sustainability.
For more information about Bayer's 150th anniversary, please visit http://www.150.bayer.com. For additional information and background on Bayer CropScience and its other programs, please visit http://www.bayercropscience.us/our-commitment/bayer-initiatives.
Bayer CropScience Twitter Page:
http://twitter.com/bayer4cropsus
Bayer CropScience Blog:
http://connect.bayercropscience.us/
###
About Bayer CropScience
Bayer is a global enterprise with core competencies in the fields of health care, agriculture and high-tech materials. This year the company is celebrating 150 years of Bayer―consistent with its mission "Bayer: Science For A Better Life." Bayer CropScience, the subgroup of Bayer AG responsible for the agricultural business, has annual sales of EUR 8,383 million (2012) and is one of the world's leading innovative crop science companies in the areas of seeds, crop protection and non-agricultural pest control. The company offers an outstanding range of products including high value seeds, innovative crop protection solutions based on chemical and biological modes of action, as well as an extensive service backup for modern, sustainable agriculture. In the area of non-agricultural applications, Bayer CropScience has a broad portfolio of products and services to control pests from home and garden to forestry applications. The company has a global workforce of 20,800 and is represented in more than 120 countries. This and further news is available at http://www.press.bayercropscience.com.
Contact:
Bayer CropScience Media Hotline, 1-877-879-6162, or
Becca Hogan
External Communications
Bayer CropScience
Tel: (919) 549-2998
Email: becca(dot)hogan(at)bayer(dot)com
Jenell Loschke
Charleston|Orwig
Tel: (262) 957-6031
Email: jloschke(at)charlestonorwig(dot)com
BCS-2013-0245
Find more information, visit http://www.bayercropscience.us
Forward-Looking Statements
This release may contain forward-looking statements based on current assumptions and forecasts made by Bayer Group or subgroup management. Various known and unknown risks, uncertainties and other factors could lead to material differences between the actual future results, financial situation, development or performance of the company and the estimates given here. These factors include those discussed in Bayer's public reports which are available on the Bayer website at http://www.bayer.com. The company assumes no liability whatsoever to update these forward-looking statements or to conform them to future events or developments.