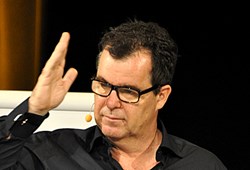 Aspiring and committed property investors have a chance to book into one of my ultimate wealth summits which I regularly hold across Australia.
(PRWEB) August 27, 2013
Home owners who owe more on their properties in mortgage debt than what they are worth do have a way out, reveals real estate educator, Rick Otton. During a regular Creative Real Estate podcast, Mr Otton told listeners his non-traditional property investment strategies allows people trapped in this cycle of negative equity to walk away from their debt.
In the podcast with two of his Sydney real estate investment students, Josh and Callie, Mr Otton said negative equity was an all too common scenario for many home owners.
"Anybody who got a 95 per cent home loan in the last three or four years has probably got no equity because house prices have dropped back 5 per cent. Quite often, people are finding they actually have more debt on their houses than what they're worth," Mr Otton said.
Student success story
Josh and Callie said not long after completing Rick Otton's course, they met a woman who had been unsuccessfully trying to sell her house.
"I think she paid $310,000 for her property when she bought it about four or five years ago, but it was only worth about $260,000 by the time we met her," Josh said.
"She was between a rock and a hard place, so we offered to look after the problem for her and get her out of debt. We did that by finding a young couple who were both working full-time, but who couldn't get bank financing because they had been shopping around for credit – which meant no financier would touch them."
"We offered the couple the chance to buy the woman's house while we babysat the loan in the meantime. They were absolutely gobsmacked because where else can you get a house without having to go to the bank?"
Mr Otton congratulated Josh and Callie on their success and said more and more people were willing to snatch up property investment deals which did not involve banks.
His book, 'How to Buy a House for a Dollar', has been voted as one of the top 10 finance books in 2013 by Dymocks bookstores and Money Magazine.
"Aspiring and committed property investors have a chance to book into one of my ultimate wealth summits which I regularly hold across Australia," Mr Otton said.
For the past two decades, Mr Otton has coached more than 35,000 property investors around the world on his 'no-money-down' investment strategies, which do not require people to have banking finance, a deposit, stamp duty or even any real estate experience.
To hear this, and other free podcasts from Rick Otton visit CreativeRealEstate.com.au. Phone enquiries in Australia can be made on 1300 888 450.
About Rick Otton
Rick Otton has spent decades making money by snapping up inexpensive real estate and putting it to work building wealth, and teaching others to do the same.
He is the founder and CEO of We Buy Houses, which operates in the US, UK, Australia and New Zealand, and through this business he puts his strategies to work every day.
Mr Otton received his start in alternative real estate investment in 1991 in the US, and within a year acquired 76 properties. In subsequent years, he made a fortune using his low-risk, high-reward strategies to inexpensively acquire real estate. He continues to do so.
As well Mr Otton travels between his home in Australia, and the UK, sharing his wisdom and teaching others how to buy and sell real estate, free from the constraints imposed by traditional lenders.
In 2013 Rick is celebrating the 10 year anniversary of introducing his property option strategies to real estate investors in the United Kingdom – the first person to reveal these ground-breaking strategies. In 2008 he created the first of his 'Houses for a Pound' strategies, upon which he grows as markets and laws evolve.
Mr Otton has been featured in a variety of television programs and magazines and in 2013 he published 'How To Buy A House For A Dollar' for the Australian market. This book has been named in the list of the Top 10 Most Popular Finance Titles for 2013, as voted by Money Magazine and Dymocks Book stores. A UK version is on the drawing board.
For full details of upcoming Rick Otton events visit HowToBuyAHouseForADollar.com.au or phone (in Australia) 1300 888 450.