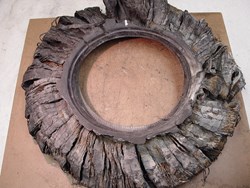 (PRWEB) August 28, 2013
Forensic tire failure expert Keith Baumgardner at Tire Consultants Inc. Alpharetta Georgia has been selected by the Liberty Mutual Insurance Company to provide forensic services on an upcoming case. Details of the case have not yet been released.
Tire Consultants Inc. provides investigation of road hazard accidents, hydroplaning, tread peels, blowouts, bursts, tire/wheel/vehicle mismatching, retread failures, tire breakup, tire fires, mounting explosions, multi-piece wheel accidents, faulty repairs, patches, plugs, inner tube failures, vandalism, defective manufacturing, overloading and under inflation, maintenance oversight.
The current forensic activity shows an improvement over the same period of 2012. Tire Consultants Inc. web site was redesigned and placed on Google web in the third quarter of 2012.
Keith Baumgardner is a forensic expert specializing in tire and wheel failure. He is a certified accident reconstructionist and has performed forensic analysis at Tire Consultants Inc. Alpharetta Georgia for the past 20 years.
Tire Consultants Inc. of Alpharetta Georgia has provided forensic expertise in tire and wheel failure cases for more than two decades. Clients benefit from expert analysis of tire and wheel failures, special testing, forensic reports and expert testimony. Nationwide service includes law enforcement agencies, legal firms, and insurance companies. Find Tire Consultants Inc. here.