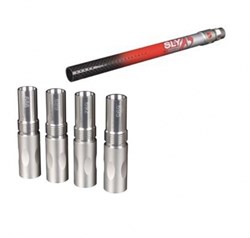 A paintball barrel is the best upgrade for your paintball gun.
(PRWEB) August 27, 2013
While the paintball barrel is an important part of a gun, it does not make or break it. Just keep a few things about barrels. There are a few differences in paintball barrels that a player needs to consider.When looking for a new paintball barrel, consider your options. First let's talk about the thread of the paintball barrel.
All types of paintball guns have different types of paintball barrel threads. There are a few main types: WGP Autococker, Kingman Spyder (sometimes called Standard thread), Smart Parts Impulse and Ion, Smart Parts Shocker, Tippmann A-5, Tippmann 98 Custom, WDP Angel (pre-A1), WDP Angel A1, and AGD Automag. These listed are the most common of paintball barrels. Some paintball guns share threads as another. For example, the WGP Autococker thread was an older paintball gun that set a standard for other paintball companies to use such as: Empire, dangerous power, Dye, Proto, Diablo, Odyssey, Eclipse, Vanguard, Bob Long, and a lot of newer generation paintball companies. Another common shared thread would be the Kingman Spyder thread. It's called the standard thread because it is the most common thread barrel. Make sure when buying a new paintball barrel to match the treads correctly to your paintball gun.
When choosing a paintball barrel, the length of the barrel comes into question a lot. The most common saying is, "the longer the barrel the better." This is true in most cases. The best length for a paintball barrel is in between 12 and 14 inches. Longer than this make the gun less efficient but here at Action Center we love 20" barrels take a look in our stores at the new barrels starting at $9.99 and going up from there.
Visit us at:
http://www.actioncenterpaintball.com/Barrels/
http://www.paintballguns.tv/Barrels_c_10.html
http://www.utahpaintballsupply.com/barrels/