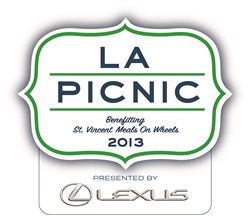 Our core supporters have been incredibly enthusiastic about the cross-generational nature of this inspiring event.
Los Angeles, CA (PRWEB) August 27, 2013
On Saturday, September 7, 2013, Los Angeles-based St. Vincent Meals on Wheels (STVMOW), the nation's largest privately-funded Meals on Wheels program, launches the first annual LA Picnic, a daytime fundraiser/picnic of delicious food and drink curated by some of Los Angeles' most influential chefs. Co-hosted by LA Kitchen, a nonprofit that aggregates and distributes food to fight hunger amid elderly and low-income individuals, the event will celebrate the extraordinary contributions seniors make in our lives and communities.
Event Details:

Saturday, September 7, 2013
10:30 AM to 1:30 PM
Private outdoor grounds at the Original Farmers Market (Third Street & Fairfax)
Tickets available at http://www.LAPicnic.org
Parking on-site
LA Picnic will feature outdoor entertainment, concessions and an abundant, one-of-kind picnic-style lunch prepared by notable chefs from every corner of Los Angeles, including: Vartan Abgaryan, Cliff's Edge; Josef Centeno, Bar Amá; Neal Fraser, Fritzi Dog; Ray Garcia, FIG Restaurant; Tim Guiltinan, The Raymond; Sal Marino, Il Grano; Kris Morningstar, Ray's & Stark Bar; Christian Page, Short Order; Erik Sun, Pursuit of Food; and Michael Voltaggio, Ink.
Tucked away on the grounds of an historic hacienda at the Original Farmers Market, LA Picnic will unfold over an acre of grassy lawns with long farm-style tables. Guests will dine with the chefs themselves and the seniors whose inspiration, experience and support have played a key role in the lives of these culinary successes. Guests are also encouraged to attend with the seniors they love. "Our core supporters have been incredibly enthusiastic about the cross-generational nature of the event," says Daryl Twerdahl of the STVMOW Foundation.
In a related video campaign, chefs will share their stories about the beloved friends, relatives and mentors – all seniors -- who have influenced them. "Every chef I know has had that one person who made them who they are today," comments Wolfgang Puck, who will introduce each video. The video campaign launches Tuesday, August 27 and will stream on the event's website, http://www.LAPicnic.org. The release of each new episode will be announced on the organization's social media channels, including Facebook, Twitter and YouTube, all tagged, /stvmow.
LA Picnic also announces a new strategic partnership between STVMOW and LA Kitchen. Founded by Robert Egger, L.A. Kitchen will gather donated and low cost produce and peel, slice, dice, flash freeze or otherwise prepare it for STVMOW's use in the meals it provides to vulnerable seniors. "LA Kitchen is wildly honored to support and partner with the most legendary Meals on Wheels program in America," says Egger. "Together, we plan to increase accessibility to the locally sourced fruits and vegetables used in their client meals." Egger, along with STVMOW Founder Sister Alice Marie Quinn, will speak on-stage at the event. ABC7 news anchor, Philip Palmer will emcee.
LA Picnic is presented by Lexus, with additional sponsorship from The Gas Company, ABC7, The Farmers Market, Levi's, and apparel manufacturer, Junk Food.
St. Vincent Meals on Wheels, the largest privately-funded organization of its kind in the country, serves approximately 4,000 meals a day. Annually, over 1 million meals are prepared and delivered to people in Los Angeles, including homebound senior citizens, disabled and terminally ill patients and homeless adults and children. STVMOW serves anyone in need regardless of age, illness, disability, race or religion, with no senior turned away. A recent study from The Center for Effective Government demonstrates that every dollar invested in Meals on Wheels saves Medicare $50. STVMOW is committed to keeping in step with the growing needs of seniors, whose population is expected to triple in LA County by 2030. #stvmow