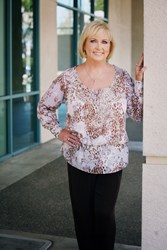 The past does not define you, the present does.
(PRWEB) August 26, 2013
Nancy Ferrari Media is proud to announce the sponsorship of Mind Body Fit Club and De'Anna Nunez for The Nancy Ferrari Show on W4CY Radio on The Intertainment Network. As Nancy Ferrari focuses on living an empowered life, the Mind Body Fit Club is in perfect alignment with Nancy Ferrari's messages of featuring experts who make a difference in life.
De'Anna Nunez is a relentless seeker of knowledge and applied strategies that work. She is the Founder of the Mind Body Fit Club, a National women's organization that teaches fitness, nutrition and personal development. Clients provide testimonials, as follows: "De'Anna is like the love child between Tony Robbins and Jillian Michaels…she delivers unparalleled motivation and a good kick in the butt." De'Anna has helped women lose up to 105 pounds naturally through her proven methodologies. They themselves have gone on to become personal trainers and mentors in her programs. In her book, Burn Your Fat Pants De'Anna shares insightful mind-set strategies for ditching diets and maintaining a focused, yet light-hearted fitness lifestyle that anyone can create and sustain. As an author, she is a sought after speaker for local and national associations, corporations and non-profits on the topic of Creating Vitality. The National Association of Women Business Owner's said, "De'Anna Rocked the Stage" at their annual conference, and Mercury Insurance says, "A Thousand employees Cheered for More!"
De'Anna Nunez is an inspired social entrepreneur walking her talk and leading others to optimal health. For over twenty years, De'Anna battled with yo-yo dieting and self esteem issues until they volcanoed into a make-a-change-ultimatum with herself at the age of thirty. Overcoming her relentless struggle, De'Anna has gone on to facilitate the same miraculous shift for others and considers her work to be her life purpose.
De'Anna draws upon her expertise as a mind-body strategist, Certified Hypnotherapist, HNLP Practitioner, Nesta Certified Fitness Trainer, ISSA Nutrition Specialist and RRCA Certified Running Coach. She has a passion for running and enjoys funneling her enthusiasm into the minds of clients coaching many through their first half and full Marathon using her highly successful IMBPTM (Integrated Mind Body Phase) strategy system.
De'Anna is also a contributing writer for Active.com, the world's largest website resource for fitness activities. Her articles have been named by Active as reaching, "the Top 10 most read articles on our site.'" She has also been a respected guest on numerous TV appearances including Fox TV and ABC. The Nancy Ferrari Show is proud to feature De'Anna Nunez appearing live on September 9, 2013, 9:00 a.m. PT/12:00 p.m. ET on http://www.W4CY.com/.