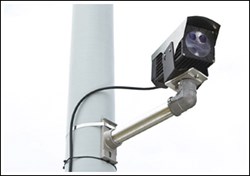 (PRWEB) August 29, 2013
The loading dock — that place for unglamorous shipping and receiving — is often overlooked or downplayed in the larger security picture. Nearly every loading dock, however, is a portal that leaves an organization open to a multitude of potential risks and vulnerabilities. Building Intelligence's SV3 products provide a complete tracking system for loading dock management and reservation.
Combined with the capabilities of reading a license plate 100s of feet a way, the logical permiter is extended. Before a vehicle physically arrives, a guard can receive a warning about an uninsured vendor, a potentially dangerous driver or a very late delivery. The Building Intelligence SV3 Loading Dock System provides guards the ability to manage the ingress and egress of delivery trucks. As a cloud-based platform users can schedule from a desktop or a smartphone.
The primary problem with loading dock security is that most organizations lack security personnel in these areas. Add to this the sometimes relaxed attitude of the shipping and receiving operation, and many organizations are left dangerously vulnerable to contraband being smuggled in and assets being taken out. "By combing the technology of license plate reading with vehicle scheduling, the process of admission can be automated. Entry can be granted from a a control room 100s of miles away," says Building Intelligence's CEO, Jeffrey C. Friedman. "This truly empowers CSOs to maintain complete and accurate information on vendors and their vehicles. Working with ELSAG North America has been wonderful and we look forward to providing great solutions."
Laurie Aaron, Building Intelligence's Executive Vice President went on to say,"Many environments provide a tremendous opportunity to use a driveway as an opportunity to identify a vehicle. Using a License Plate Reader to identify a vendor, staff or to let staff know that an unknown vehicle is arriving enables guards to be vigilant and thoughtful. We know that employees are reluctant to be the "bad guy" by challenging unknown or unauthorized personnel. Using an LPR allows operations to simply follow a procedure based on known or unknown." Proper loading dock security starts with comprehensive policies and procedures for shipping and receiving operations. 
"This is a great new application for our technology; ELSAG North America is proud to partner with Building Intelligence on this comprehensive vehicle security solution," said Jason Laquatra, Senior Vice President of Operations. ELSAG North America's Automatic Number Plate Reader (ALPR), the Fixed Plate Hunter-900® (FPH-900®) can be mounted to bridges, gates, overpasses and other stationary structures to help constantly monitor sensitive areas. This highly advanced Automatic Number Plate Reader reads plates day or night, from all European countries. It can also read other alphanumeric identification systems—even from 1500 feet in the air. ELSAG NA's FPH-900 ALPR system minimizes the guesswork and safety risks that challenge law enforcement officers every day.
Building Intelligence, Inc. is a New York based information technology and security services provider. The company provides a suite of facility and security cloud-based solutions for managing facilities in many different industries. Scale-able to commercial, residential, government, hospitality, healthcare, stadiums, and performance centers, our cloud-based portal, vehicle security, visitor security and vendor solution is customized to fit the needs of the buildings, the tenants, and the security companies that service those facilities. All of our systems provide streamlined operations, logistics, analysis and comprehensive security protocols that provide people, property and business with an ideal combination of services. Visit us online at http://www.buildingintelligence.com..