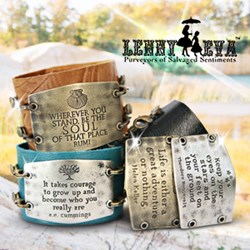 This is for the dreamer, and the dancer, and the music maker... This is for you. - Lenny and Eva
New York, NY (PRWEB) August 27, 2013
"This is for the dreamer, and the dancer, and the music maker. For the one brave enough to jump, and the one still standing on the edge. This is for the one who takes the path, and for the one who creates her own. For the one who fights, believes, creates, and inspires. This is for you." - Lenny & Eva
A Silver Breeze is proud to offer the new interchangeable Lenny & Eva jewelry line. The brand was launched in 2009 by a Mother of three who, upon reflection of her life, realized she wanted to create jewelry that spoke to women, that inspired them, and that helped them cherish memories for a lifetime. The collection features leather cuff bracelets and wraps, beaded bracelets, charms, necklaces and sentiments.
All jewelry from Lenny & Eva, available at A Silver Breeze, is handcrafted in the United States. The charms, pendants and necklaces are available in antique brass and silver tones featuring flowers, elephants, lockets, books, colourful beads and more. They can be added to necklaces and bracelets. The necklaces available from the new line include classic chain-link necklaces in 18", 24" and 30", and messenger necklaces that consist of a chain that can attach a sentiment piece to it. The messenger necklaces come in turquoise and champagne.
The collection of cuffs, braided wraps and fringe wraps are all made of genuine leather. The cuffs feature adjustable buttonhole closures that allow for pendants, charms and other sentiments to be added, and they come in a variety of natural tones and bright colors. The leather braided wraps can be worn as bracelets, necklaces, or headbands, and can be paired with various pendants. Fringe wraps are also available from Lenny & Eva. Made of genuine deerskin leather, the fringe wraps double up as bracelets and necklaces.
The unique Lenny & Eva sentiments, available at A Silver Breeze, are made of various metals in antique silver and brass tones. Sentiments are interchangeable on the cuffs, wraps, and necklaces and they feature words of wisdom and inspirational quotes from people like E.E. Cummings, Hellen Keller, Mark Twain, Anne Frank, and many more.
The new line of Lenny & Eva jewelry is now available. For more information and to purchase products from the new line, please visit A Silver Breeze in store or online at: http://www.asilverbreeze.com.
About A Silver Breeze
A Silver Breeze was founded with a philosophy in mind: give women the freedom to be themselves and embrace a sense of style that's unique to each woman. A Silver Breeze offers women quality sterling silver jewelry that is interchangeable, from brands like Kameleon, Chamilia, Bella Ryann and Lenny & Eva. You will also find gifts and other accessories from brands like Natural Life, WeWOOD and Bering Watches.
Stores are located at the Aviation Mall in Queensbury, New York and at 516 Broadway in Saratoga Springs, New York. All available collections can also be purchased at the A Silver Breeze online store at: http://www.asilverbreeze.com. A Silver Breeze ensures every customer's shopping experience will be an unforgettable one.