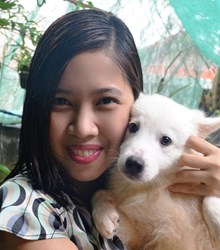 I feel so blessed and so lucky to be a part of PetsPage. I love my job so much! And also my bosses Karen and Tinks! I will always do my best to make PetsPage, Karen and Tinks Social Pet Superstars.
Boise, Idaho (PRWEB) August 27, 2013
PetsPage Creator and CEO Karen Bostick has appointed Jane G. Gonzalez as Social Media Administrator for Petspage.com. Gonzalez began working for PetsPage.com just last month and under her direction, PetsPage social media presence continues to enjoy explosive growth.
Bostick's little Maltipoo, Tinks, the face of PetsPage.com, continues to be a rising star within the overall universe of social media. Four years ago, Tinks almost lost his life due to a rare auto immune disease. In spite of the quick diagnosis from Tinks' general practice veterinarian, Tinks was not getting any better and was fading fast. Karen begged her vet for more treatment options and ultimately found out with only moments left to spare in Tinks' life that advanced veterinary care was even an option. Thankfully, she found a veterinary internal medicine specialist (DACVIM) who was able to use advanced treatment methods to save the life of her beloved pet.
The daughter of a veterinarian herself, Bostick was unaware that veterinary specialists existed, let alone the additional expertise and advanced treatment options they provided. Wanting to share that message with pet owners everywhere, Bostick created PetsPage.com. Since its official launch on July 15, 2013, PetsPage.com has amassed over 1,000 members.
On Social Media, Tinks' Story and Karen's mission has struck a chord with pet lovers around the world. During the development process of PetsPage.com, Bostick created several Facebook pages to share Tinks' Story and his adventures. The response has been overwhelming to say the least. Social media users and pet lovers all over the world not only embraced Tinks, they fell in love with him. Tinks has become a Social Pet SuperStar with Karen's Facebook pages - Karen Bostick & Tinks, We Love Tinks, and MyPetAdvocate.org, collectively garnering over 150,000 likes and growing.
As Social Media Administrator, Jane Gonzalez has dramatically expanded the PetsPage social media presence helping to garner over 1,000 Instagram followers since early August after sharing adorable photos of Tinks. Additionally, under Gonzalez's direction, PetsPage creator Karen Bostick's Twitter followers have increased to over 2,000 – an increase of 1,500 within a month. Bostick's LinkedIn account now has an impressive 4,500 followers – an increase of 1,500 in the last 30 days and PetsPage Pinterest site now has almost 1,000 followers.
"I am thrilled that Jane [Gonzalez] has joined the PetsPage.com team as Social Media Administrator. In just about a month, our social media presence has expanded to new forums to help spread the PetsPage mission and Jane is a big reason why. I knew Jane was special when she sent me a little You Tube video she made in honor of Tinks. After seeing that adorable video, I knew then and there that Jane would be a valuable addition to PetsPage and I have not been disappointed," said, PetsPage.com creator and CEO Karen Bostick.
After years of pursuing a career in Accounting, Gonzalez, who holds a degree in Accountancy from the prestigious Philippine School of Business Administration, rediscovered her passion for teaching and took on a career teaching the English language online to mostly Asian students. She was later engaged as a Virtual Assistant by several firms in the US and Canada where she handled many responsibilities including internet marketing. As a longtime pet lover, Jane was thrilled when she was offered the position of Social Media Administrator of PetsPage and finds her work very rewarding. Gonzalez's duties for PetsPage.com include conducting research, internet marketing, and managing social media marketing efforts. Jane is the mother of 4 young children and also has 4 dogs and 2 cats.
"I feel so blessed and so lucky to be a part of PetsPage. I love my job so much! And also my bosses Karen and Tinks! I will always do my best to make PetsPage, Karen and Tinks Social Pet Superstars," Said Gonzalez.
About PetsPage
PetsPage.com is a brand new social pet community that its Founder and CEO, Karen Bostick calls, "A Place for the Social Pet." PetsPage.com has a primary mission of increasing pet owner awareness of veterinary specialty medicine, which can quite literally save pets' lives through advanced veterinary care by creating an engaging social pet community platform to connect pet lovers with each other as well as pet professionals and pet products in a fun, friendly and interactive way. "I've really had fun creating new ways to incorporate more social features to attract pet owners to this important information," said Bostick.
PetsPage.com is based in Boise, Idaho.