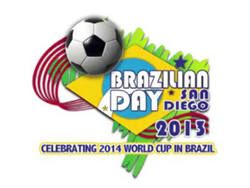 San Diego, CA (PRWEB) August 26, 2013
The Brazilian Day San Diego Festival is proud to announce that Fogo de Chao has agreed to become a title sponsor for its September 8th events. Fogo de Chao is an upscale Brazilian restaurant that features authentic meats, cheeses and vegetables prepared in the ancient culinary tradition of churrasco.
Fogo de Chao became popular in Brazil before finally opening its first restaurant in America in 1997 in Dallas, Texas. Today, the restaurant boasts locations all over the United States. To date, they have three restaurant locations in the state of California including one in Beverly Hills, one in San Jose, and one in San Diego.
The Gaucho method of roasting meats over open fire pits creates juicy, delicious flavors and this is an age old Brazilian tradition observed at all festive occasions, especially large family gatherings. Fogo de Chao serves 16 cuts of meats prepared by Gaucho Chefs grilled over an open flame. Along with this, patrons can enjoy a gourmet salad bar, an award winning wine list, and authentic Brazilian side dishes.
This year's Brazilian Day San Diego Festival takes place on September 8, 2013 at Pacific Beach in San Diego. The premier event promotes Brazilian arts, crafts, culinary arts and culture. It is organized by a nonprofit organization, the Capoeira Institute, Inc. and is designed to showcase the best and most brilliant Brazilian literature, music, folklore, and dance. The Capoeira, which is a Brazilian martial art combining Brazilian dance, music and acrobatics, is also a highlight of the event.
The Brazilian Day San Diego Festival brings the spirit of Brazil to the heart of San Diego. It provides non-stop entertainment in a Carnival style venue. It has become known for its fun, entertaining vibe that brings young and old alike out into the streets to enjoy the vibrant Brazilian culture.
Last year, over 50,000 people were in attendance at the Brazilian Day San Diego Festival and the gala event always attracts a wide range of ethnic groups curious about the Brazilian culture. Attendees will enjoy a fun day of learning about the ancient traditions of Brazil, the Portuguese language, along with music, dancing and numerous festivities. Admission is free to all. There will also be vendors selling food, souvenirs, gifts, arts and crafts and other items.
The Brazilian Day San Diego Festival is the largest event of its kind on the West Coast that promotes the Brazilian lifestyle and culture.
According to event organizer, Paulo Lima, "Everyone is so excited to have the people from Fogo de Chao join us this year. The restaurant is very popular and well-known for its amazing food and authentic Brazilian atmosphere. Fogo de Chao will be an excellent addition to the Brazilian Day San Diego Festival. The people of San Diego are in for a real treat this year."
Sponsorship packages are still available and they offer sponsors a wonderful opportunity to expose their products and services to a wide and eclectic audience. The event will have an extensive media campaign that includes TV ads and radio ads, social media marketing, email marketing, and many others.
The event includes festive parade floats with banners that feature the names of all event sponsors. A sponsorship package includes premium booth space at the event, company logo on event t-shirts, company logo on the stage backdrop, and company logo on the step and repeat banner. All Sponsorships are tax deductible.
About the Brazilian Day San Diego Festival
The Brazilian Day San Diego Festival will take place on September 8th, 2013 and will be held from 11 a.m. till 7 p.m. All proceedings will be held on Garnet Avenue at Pacific Beach and admission is free. This is a family friendly event that will not sell alcohol. Event promoters are offering three levels of sponsorship: Title Sponsor, Gold Sponsor, and Silver Sponsor. They are also offering exhibitor booths for artisans and local businesses who have a product or service to sell.
For more information, please visit: http://www.braziliandaysandiego.com/