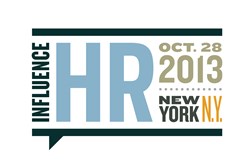 "The balance of power has shifted in today's consumer-focused world. The buyer holds all the cards."
New York, NY (PRWEB) August 27, 2013
LAROCQUE's HCM marketing conference, InfluenceHR, now features HubSpot Chief Marketing Officer Mike Volpe as the event's keynote speaker on Oct. 28, 2013. "When you have one day to provide actionable advice," said LAROCQUE President George LaRocque, "you need someone who's changed the basic principles of marketing, getting results they could never dream about for their companies."
Under Volpe's leadership, HubSpot's marketing has won more than 30 awards, been featured in over 20 marketing and business books, generated over 1 million leads, and grown the company from 10 customers to nearly 10,000 customers and over $50 million in revenue.
"Today's marketing strikes a balance between the age-old concept of 'the customer is always right' and the reality that the customer is actually more savvy than ever before," said Volpe. "I love the fact that InfluenceHR is going to give us a chance to dive into this discussion and come out with tactics on how to handle today's buyers."
InfluenceHR New York will continue to throw out the old model of three days of stale topics and dry speakers. Instead, the conference will provide busy executives with one day of actionable insight into the strategies that differentiate companies in this niche industry.
Volpe's session, "Inbound Marketing: A Love Story," will discuss how the balance of power has shifted in today's consumer-focused world. The buyer holds all the cards. With that knowledge, some brands bend over backward to meet the demands of the highly fickle buyer. But can B2B companies really afford to do that? How does this consumer-focused trend impact B2B marketing?
What's love got to do with it?
This presentation will change attendees' views of marketing and their method to generating more revenue through a lovable approach to engaging more customers. This isn't about speed marketing and making short-lived messages that are defunct upon sight. No, this is about building relationships, the only way marketing really thrives in today's world.
Attendees of InfluenceHR will have exclusive access to HR buyers, market-leading analysts, and trailblazing peers. The panelists and speakers are heading up their own companies' strategies, so they know what the hell they're talking about. From enterprise-level market domination to startup innovation, InfluenceHR is going to have it all.
Volpe isn't the only major name presenting at InfluenceHR. LAROCQUE has lined up speakers who are dealmakers, rising stars, and profit drivers. Here's a sampling:

Mark Organ — Founding CEO, Influitive
Mark Fogel — Chief Human Resource Officer, Marcum Group
Steve Smith — Partner, The Starr Conspiracy
Madeline Laurano — Research Director, Aberdeen Group
Chip Luman — Chief Operating Officer, HireVue
Don MacPherson — President and Co-founder, Modern Survey
Here's what attendees need to know:
InfluenceHR Conference
Oct. 28, 2013
New York City
Conference Website
Conference location:
Convene Conference Center
32 Old Slip
New York, NY 10005
About LAROCQUE
LAROCQUE is the leading strategy and go-to-market consulting firm for HR-related technology and the human capital management (HCM) marketplace. Services are offered in a unique Service-on-Demand approach, as well as by project or retainer. LAROCQUE publishes the #hrwins list of HR Companies To Watch annually, celebrating the innovation taking place in the HCM and HR tech markets by vendors of all sizes.