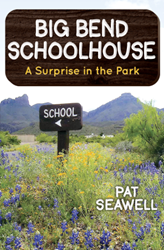 (The book) showcases some of the history and natural wonders of the Big Bend region – one of the nation's last frontiers.
Alpine, Texas (PRWEB) August 29, 2013
San Vicente Elementary School is unlike most other small schools. In addition to averaging only 20 students grouped several grade levels per teacher, it's 100 miles from the nearest supermarket and hospital and sits in the middle of one of the most remote national parks in the continental United States. This new book shares the experiences of author Pat Seawell, her school volunteer husband John, and her young students at the tiny school in Big Bend National Park, Texas. Learning reading, writing and arithmetic was important, but just as valuable were re-vegetation projects, desert hikes and river voyages.
"Big Bend Schoolhouse A Surprise in the Park" showcases some of the history and natural wonders of the Big Bend region -- one of the nation's last frontiers. Seawell includes a behind-the-scenes look at park happenings such as park rangers hunting a tourist-attacking mountain lion and removing a rattlesnake from the school playground. In addition to their regular duties, the park rangers and interpreters shared their expertise with students whenever called upon. The park serves as an extension of the school, with its 450 species of birds and extensive wilderness. Seawell's dedication to the children she taught shows in the dozens of ways she threw herself wholeheartedly into one of her life's greatest challenges. She's not afraid to point out missteps along the way, and it's clear that the students, parents and park have created memories for her that will last a lifetime.
Author Pat Seawell has been a teacher for five decades in four states and across three continents, not including her first pretend school at age six. She retired twice from public school teaching and now serves as an assistant professor in the education department at Sul Ross State University in Alpine. Seawell's ties to Texas run deep: her grandmother taught at a one-room schoolhouse in what has become a part of Corpus Christi; she grew up on a southwest Texas cattle ranch; an ancestor fought -- and died -- at the Alamo; and she and her husband of 47 years live on a Texas ranch. Although Seawell's book is regional in setting, it transcends region in humor, personal insight and theme.
For additional information, please visit http://www.bigbendschoolhouse.com.
Big Bend Schoolhouse: A Surprise in the Park
Pat Seawell
Dog Ear Publishing
ISBN: 978-1-4575-1926-0 216 pages $24.50 US
Available at Ingram, Amazon.com, Barnes & Noble and fine bookstores everywhere.
About Dog Ear Publishing, LLC
Dog Ear Publishing offers completely customized self-publishing services for independent authors. We provide cost-effective, fast, and highly profitable services to publish and distribute independently published books. Our book publishing and distribution services reach worldwide. Dog Ear authors retain all rights and complete creative control throughout the entire self-publishing process. Self-publishing services are available globally at http://www.dogearpublishing.net and from our offices in Indianapolis.
Dog Ear Publishing – self-publishing that actually makes sense.