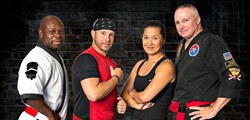 We can offer a better program and service to the participants when we pull all of our different expertise together.
Richmond, VA (PRWEB) August 28, 2013
CO2 Fit teams up with Pulse Fitness RVA, Competitive Edge Karate, and Tactical Martial Art Academy to launch Fighting Fit Challenge, a six-week fitness and weight loss challenge where participants compete to improve their fitness and diet for a chance to win prizes, including a $250 cash prize. The program includes nutrition coaching and support, weekly fitness and kickboxing classes, but most importantly, fun, friendly competition for prizes as well as bragging rights.
"It made sense to team up with those who are like-minded and passionate about helping Richmonders become fit and healthy. We can offer a better program and service to the participants when we pull all of our different expertise together, Jason and me for fitness and nutrition, and Roger & Keith for kickboxing," stated Seo Kelleher, founder and owner of CO2 Fit.
This is not the first time these businesses are working together to provide superior fitness and health programs to Richmond. Jason Blake of Pulse Fitness RVA and Seo Kelleher of CO2Fit started partnering together this past spring, working on various projects. Blake and Kelleher both share backgrounds in martial art training with grand masters Roger Dabney at Competitive Edge Karate and Keith English at Tactical Martial Art Academy respectively.
"When we came up with the idea to launch the Fighting Fit Challenge, it was only natural that we each reached out to our own Grand Master for partnership. Then we found out that Roger and Keith have been long-time friends and partners going back over twenty years," continued Kelleher.
The Fighting Fit Challenge is for everyone. Those starting on a weight loss journey of improving health can benefit by participating in the challenge for added motivation and accountability, as well as coaching and training from experienced trainers. Those looking for a different challenge from their current training can also benefit by trying kickboxing, learning proper techniques from highly-regarded grand masters with numerous qualifications including 8th degree black belt. Martial artists hoping to improve their fitness level can also benefit from the trainers who understand the specific needs of the sport and have the ability to cater the workouts to their needs.
The Fighting Fit Challenge will be offered at two different locations, Competitive Edge Karate located on 3500 Mayland Court in the West End, and Tactical Martial Arts Academy on 9828D Midlothian Turnpike in the Southside.
"We plan to have some fun with it, doing some friendly competition between the West End Team and Southside Team. The trash-talking among the coaches has already started," stated Kelleher.
They are accepting registration for the challenge scheduled to start on Monday September 15, 2013. For more information, please visit co2fit.com or contact Seo at CO2 Fit 804-349-6672.
About CO2 Fit:
Established in 2012, CO2 Fit is located in Richmond Virginia. Founded by Seo Kelleher, CO2 Fit aims to help all people reach their health and wellness goals. Here at CO2 Fit, we acknowledge that everyone's road to fitness is different and unique. We aim to find the best workout and health routine for every client, whether it is yoga, kickboxing, group classes and more! For more information, please visit: co2fit.com