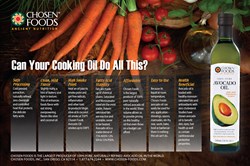 I now use it in place of olive oil in every dish that I create and cook. I also love that it has such a high smoke point, making it a very healthy oil alternative for fried foods.

Kyndra Holley, author of the blog "Peace, Love & Low Carb"
San Diego, CA (PRWEB) August 27, 2013
Avocado oil is making a big impact in the health food and culinary world. Today's consumer expects a great product, verifiable quality, transparency, affordable pricing and health benefits all wrapped into one unique buying experience. Chosen Foods is delivering this experience on a daily basis for thousands of people who take home a bottle of their avocado oil. When asked, Chosen Foods President George Todd had this to say about the overwhelming consumer acceptance: "We aren't surprised. There really isn't anything else like it on the market. There is boutique, expensive oils, there's coconut oil and olive oil, but each one of those has its limitations. It could be price, inability to withstand heat, strong flavor profile. But not us. Chosen Foods avocado oil is the healthiest, most versatile and affordable cooking oil on the market."
Chosen Foods conducts extensive 3rd party lab testing on not only their own avocado oil, but also each and every one of their competitors. The proprietary, temperature-controlled and chemical-free processing of Chosen Foods avocado oil protect the nutrients found in the crude oil, while eliminating the impurities. The result is a cooking oil that can withstand up to 500°F cooking temps, has more monounsaturated fat than olive oil and still contains 85% of the beneficial sterols found in virgin avocado oil. It's no wonder Chosen Foods has adopted the tag line: "Can your cooking oil do all this?"
To find out more about Chosen Foods avocado oil including a list of their 200+ COSTCO locations, visit their website http://www.chosen-foods.com.