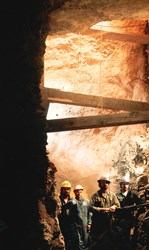 Las Cruces, NM (PRWEB) August 29, 2013
The Gold House Trilogy is the thing of movies; a gold treasure, murder, government corruption, and a smoke cloud of mystery hiding historical figures. This month, for fan appreciation, John Clarence and Tom Whittle released an excerpt from their second book "The Lies, The Theft."
Without a doubt, according to the Gold House Trilogy, historical figures such as Richard Nixon knew about the Victorio Peak treasure in New Mexico. The series alleges government bureaucrats and military personnel, particularly those at the White Sands Missile Range, knew about the treasure to a great extent.
In 1992, a dig in the White Sands Missle Range began and turned up several ancient artifacts. The recovered objects fuel the suspicion that it may have been the treasure of Don Juan Oñate or the treasure of the executed French monarch Maximilian I. Some of these artifacts are available for the public's view at the Victorio Peak website.
"The arguments of where the treasure came from are all out there," John Clarence notes, "still no one asked the question 'Where did it go?'" With this release, the authors hope to spike interest in the question.