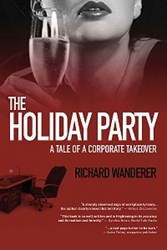 Reads like a movie.
Los Angeles, California (PRWEB) August 29, 2013
Richard Wanderer, author of his self-published fictional suspense novel, "The Holiday Party (A Tale of a Corporate Takeover) http://www.theholidayparty-ataleofacorporatetakeover.com recently spoke with the book reviews editor of the Miami Herald. He was told, very nicely, they don't review any self-published books - this is their policy. One minor exception might be if the author is a local person. Speaking with an assistant to the book reviews editor of the Columbus Dispatch he was told they get so many books they don't review self-published books.
This is despite the fact that many well known authors began their careers self-publishing their novels and seeing them become best sellers. Some examples are: John Grisham's, "A Time to Kill"; "The Celestine Prophecy" by James Redfield; "The One-Minute Manager" by Ken Blanchard and Spencer Johnson; "The Elements of Style" by William Strunk Jr.(and his student, E. B. White); "The Christmas Box" by Rick Evans. Some other authors who started out self-publishing are: Zane Grey; Virginia Wolff; James Joyce; Edgar Rice Burroughs and many others according to Dan Poyter's article, "Books That Were Originally Self-Published".
Richard Wanderer, an authority on this subject says, "A good self-published novelist, just like the major book publishing houses do: Has his/her novel professionally edited; selects an artist to design an original cover for their novel; makes arrangements for the printing and distribution of their books in print and digital outlets. The major difference is good self-published novelists pay for these services themselves - they invest in themselves. The self-published author has to work hard to get to the top. However, if the reader gets to see the novel and likes what they read, than this is really what it is all about."
"Whether a novel is self-published or published by a major book publishing company, a key element for an author's eventual success, many successful authors advise", according to Wanderer, "write about something you really know a lot about." Richard Wanderer's background for writing his fictional suspense novel about the takeover of a national magazine and what happens to the lives of the employees after the takeover is that he spent more than 50 years of his life working in the advertising sales departments of major national magazines and newspaper chains in NYC and LA. His characters and scenarios are often an amalgamation of people and situations he has encountered through his personal experiences as well as a writer's imagination. Later in life, while working full time and raising a family, he also became a member of the California Bar.
Dan Poynter's Article: http://www.parapublishing.com/files/pressroom/155-Self-Published%20Books.pdf.
About Richard Wanderer's Novel
Richard Wanderer's fictional suspense novel, "The Holiday Party (A Tale of a Corporate Takeover) http://www.theholidayparty-ataleofacorporatetakeover.com deals with the takeover of a family owned national magazine, which was run in an employee friendly manner by a huge media conglomerate that installs a Draconian thrift regime. Wanderer tells his story from the viewpoint of the loyal employees who helped build the magazine into a prominent success story only to see strangers take it over. One of the characters in his fictional suspense novel, through his actions, informs the readers as to how one may try and cope with this type of situation. It has received many strong reviews: Kirkus Reviews calls it, "A sharply observed saga of workplace tyranny"; San Francisco Book Review, "Page-turner"; MidwestBook Review, "Highly recommended"; IndieReader, "Suspenseful"; Bookviews by Alan Caruba, "Leaps off its pages"; Cynthia Brian of World Talk Radio, "This book is so well written and is frightening in its accuracy and realism and ferocity." Published by Two Harbors Press, the novel is in softcover and also available on Kindle and Nook.
Contact:
Patricia O'Brien, St. Bernard Public Relations (818) 986-7777