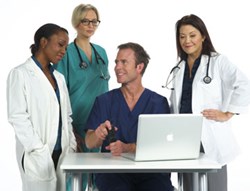 Santa Monica, CA (PRWEB) August 28, 2013
SonoSim, Inc., developers of the groundbreaking SonoSim® Ultrasound Training Solution, announced today that its Personal Solution is now available for Mac OSX users. The new support extends the SonoSim® Personal Solution to an even broader base of physicians, nurses, and students wanting to learn ultrasonography. The new OSX version is now available today from SonoSim's website.
The SonoSim® Personal Solution is designed to simplify ultrasound education. It consists of fully customizable educational software and a USB-powered SonoSim® Sensor that turn laptop computers into ultrasound classrooms. Combining hands-on training with over 1,000 actual patients and real pathologies, didactic courses created by leaders in ultrasound education, and real-time knowledge assessment, the SonoSim® Personal Solution provides a simple and comfortable "anytime, anywhere" learning environment for learners.
"The importance of ultrasonography to medical diagnoses and therapies is growing rapidly, but the main barrier for adoption of this technology is education. Traveling to weekend courses to learn ultrasound is costly, inconvenient, and fails to provide sufficient training on how to scan pathologic conditions," said Dan Katz, VP of sales and product development at SonoSim, Inc. "Our mission is to make it as easy as possible for busy physicians, nurses and students to effectively attain this high-demand skill. Our OSX version is an extension of that mission, bringing highly effective and highly engaging ultrasound education to learners who use a Mac or Windows system as their primary computer."
The SonoSim® Personal Solution starts at $2,995, and comes with a range of customization options that focus on the specific needs of individuals and groups. For more information, visit http://sonosim.com/our-solution/.
About SonoSim, Inc.
SonoSim® develops and markets state-of-the-art simulation training products for physicians, nurses, students and care providers who need to continually expand and improve their ultrasound skills. With its staff of leading ultrasound educators, computer-based instructional designers, content editors, computer engineers and scientists, and software developers, SonoSim® has created the easiest, most effective and convenient way to learn ultrasound: the SonoSim® Ultrasound Training Solution. For more information, visit: http://www.sonosim.com.
###
© 2013. SonoSim, Inc. All rights reserved. SonoSim® and The SonoSim® Ultrasound Training Solution are trademarks of SonoSim, Inc. All other trademarks are the property of their respective owner(s).