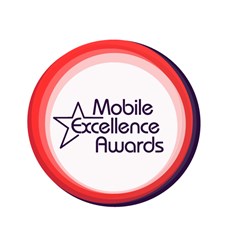 Los Angeles, Ca (PRWEB) August 27, 2013
The Mobile Excellence Awards (http://www.mobilexawards.com) produced by Little Monster Media and Axis Entertainment is proud to announce the 2013 finalists for its 6th annual awards season. The Mobile Excellence Awards is the only industry award which honors the best in mobile technology and entertainment.
The coveted awards gala will be announced and celebrated at the Ritz Carlton, Marina Del Rey, CA at Digital Hollywood on October 23, 2013 by industry luminaries and leaders from around the world who gather once a year at this prestigious event.
This is the award show's biggest year yet with industry breaking submission records coming from several different countries. The awards show is sponsored in part by ooVoo, Airpush, AEG Live, YouTube, Axis Entertainment, Digital Media Wire, Siemer & Associates, VentureBeat, Interactive Television Alliance, Mobile Monday Los Angeles, Wireless Industry Partnership, and Devious Media, amongst others.
"The MEA organization is proud to recognize such a caliber of companies who made it to the finalists this year. We are happy that the MEA efforts and initiatives have finally reached global corners of the world and broken over-all submission records this year." said Sarah Miller, Founder of the Mobile Excellence Awards and CEO of the Axis PR & Entertainment. " As we celebrate the finalists and winners in October, we are looking forward to expanding onto live platforms next year to drive greater attention to the mobile industry."
Finalists were scored upon strategic initiatives and objectives, impact of technology used, creativity, ease of use and reach, and execution and proven market success. The following 2013 Mobile Excellence Awards finalists are:
Premier Awards:
Humanitarian Award
TURKCELL North Cyprus, Life Without Barriers
TURKCELL, Communication for Syrian Refugees
Mobile Social Awareness Award
TURKCELL for Women Empowerment In Economy Project
Deloitte Digital o.b.o. Kaiser Permanente
Hipcricket for Text to donate
Industry Star
DudaMobile
AT&T Inc. for AT&T Small Cells
Samsung Telecommunications America
Qualcomm Incorporated
Fiksu, Inc. Mobile App Marketing Platform
Mobile Ambassador
To Be Announced the evening of MEA Awards Program
Mobile Business:
Best Mobile Payment
Fiserv, Inc. for Popmoney ®
Vodafone Turkey's 'Mobile Wallet'
MACH for Direct Operator Billing Solution
CLOUT
DenizBank for fastPay m-wallet
Best Mobile Innovator
GQ Live! for print-to-mobile app
DudaMobile
Samsung Telecommunications America
Vibes
Kinvey
Best International
PostFinance for Top up iTunes credit in the PostFinance app
Qualcomm Life for 2net™ Platform & Hub
July Systems for July MX ESPN Goals
Melon Mobile for GPS Voice Navigation for Windows Phone
Best Retail/Commerce Solution for Mobile
FIS Mobile Wallet
PostFinance for Top up iTunes credit in the PostFinance app
Catalog Spree
Tmob Mobile Technology for GittiGidiyor Mobile Apps
STYLBAR App
Best Mobile Product
OtterBox Armor Series
Samsung Telecommunications America for Galaxy S 4
Kidz Gear KidzControl Volume Limit Headphones
Samsung Telecommunications America for Galaxy Note 8.0
Mercedes-Benz Research & Development North America Inc. for
smart drive 2.0 app
Jabra Revo Wireless
Best Mobile Ad Network
Mojiva Inc. for Mojiva Tab
Mobile Theory
Appia
LeadBolt for Mobile Ad Network
Mobile Entertainment:
Best Entertainment Integration for Mobile
SapientNitro for ESPN X Games
Showtime Networks
Vibes
Best Mobile Games
Doubledown Casino
EA for All Play for Real Racing 3
Fox Digital Entertainment for AVP: Evolution
Audax Health for Realm Blazer
Aperto Group / Aperto Move GmbH: Volkswagen Rally The World. The
Game.
Best Mobile Music
GRAMMY Live
Sony Music Entertainment for Pinball Rocks HD
Best Entertainment Related Marketing Campaign
Aperto Group / Aperto Move GmbH for Volkswagen Rally The World. The Game.
Dreamworks Animation SKG for Turbo Racing League Mobile App
Chucky E. Cheese's "Chuck E.'s Say Cheese!" Augmented Reality App
Best Original Content for Mobile
HP Antonomy for Aurasma
Vivino
AT&T Mobility for @SummerBreak
NBC News Mobile
Best Content Extension Made for Mobile
Bravo for Bravo's Play Live Experience
SapientNitro for ESPN X Games
E! Live From the Red Carpet
CBS Interactive
Best Mobile Application for Entertainment
TV Guide Mobile App for iOS
AHA by Harmon
E! Online
Best Mobile Entertainment for a Sports Category
Sporting Innovations for Sporting Club Uphoria 'Playback' feature powered by EVS C-Cast
TURKCELL for Smart Ticket
ooVoo
CBS Interactive
SapientNitro for ESPN X Games
Mobile Technology:
Best User Experience for Mobile
Deloitte Digital o.b.o. Kaiser Permanente
ooVoo
Kotak Mahindra Bank
Orbitz and the Orbitz mobile app
USA TODAY for USA TODAY Android App
Best Mobile Utility Application for on a Smartphone or Tablet
Hilldrup Moving & Storage for MovePro for iPhone and iPad
Qualcomm Snapdragon BatteryGuru
BQE Software for BillQuick Mobile
NQ Mobile for NQ Family Guardian
NQ Mobile for NQ Mobile Vault
Best Delivery Platform for Mobile
Vibes
LocationSmart for Hybrid Location Platform and Geofencing Suite
Netbiscuits for Netbiscuits Cloud Platform
Prelude Systems, Inc., AnB for Enterprise Mobility
Best Technology Breakthrough
Celcite for COPS-SON
DudaMobile
AT&T Inc. for Tower Outage and Network Analyzer
LiveU LU for Smart Mobile App
Broadcom for 4G LTE-Advanced modem - BCM21892
Best 2nd Screen Experience for TV on Mobile or Tablet
TiVo Mobile App
GRAMMY Live
MHL Consortium
E! Live From the Red Carpet
MobiTV Converged Media Platform
Best Mobile Video
ooVoo for The Next Generation's Social Video Chat App For Keeping Friends
Together
Magisto Video Editor & Maker
AdColony for Xbox
VEVO
Recognizing companies from start-ups to major studios, The MEAs is proud to reveal its sixth annual list of finalists. For more information on sponsorships or attending the 2013 Mobile Excellence Awards taking place on October 23rd, please go to http://www.mobilexawards.com .
About Mobile Excellence Awards
The 2013 Mobile Excellence Awards profiles the latest in mobile entertainment, including media, marketing and technology. We award excellence in execution of corporate approach, consumer services, consumer experiences, content creation, and marketing devices or revenue generators for the mobile entertainment industry. For more information, please visit http://www.mobileXawards.com .
PR Contact for Mobile Excellence Award:
Jackie Falcon
Axis PR & Entertainment
T 310-276-2220
jfalcon(at)axis-entertainment(dot)com