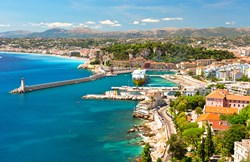 (PRWEB) August 28, 2013
Visited by thousands of tourists, Nice is a popular holiday destination in France. The city is located on the French Riviera coast on the Mediterranean Sea. Autumn and winter are the popular months when people prefer to visit the city for vacation.
People generally visit the city to attend the annual Mardi Gras Carnival held every February. This carnival offers many entertainment activities such as flower parades, street processions, fireworks and a huge concert. The other main event of the city is the Nice Jazz Festival. It is the oldest jazz festival in the world. People prefer to stay in the city hotels in Nice to attend the concerts easily.
There is a famous hotspot in the city where people generally wander around or dine with their friends. It is the Promenade des Anglais. People also visit Colline du Chateau to view the famous scenery from the castle ruin. People may also visit the religious sites of Nice, including the Nice Cathedral, Russian Orthodox Cathedral, Church of Saint Joan of Arc and Basilica of Notre-Dame de Nice.
Emphasizing on the popularity of the city, CEO of Otel.com, Metin Altun announces the deals on Nice hotels; "We have worked on the numbers of reservations in this famous city, Nice. We have found that, this season is the peak booking season in the city. We decided to prepare a package deal to provide cheap Nice hotels to our customers. This is a great advantage for planning a vacation in Nice."
He also mentions the top two hotels they are offering. The first hotel is the 4-star Nice Riviera Hotel. The location of the hotel is quite central. There are many activities within the hotel such as a fitness room, a swimming pool, a SPA bath and a sauna. The other popular hotel is Apogia Hotel, close to the Promenade des Anglais and the old city. People may enjoy their breakfasts in the restaurant of the hotel and their drinks in the hotel bar. The rooms feature modern facilities and they are soundproofed.
About Otel.com
Being an international travel company, otel.com offers daily or monthly deals on some popular destinations. The website of the company features over 20 languages and currencies within.