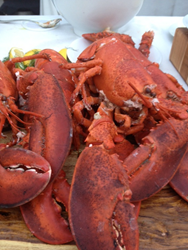 (PRWEB) August 28, 2013
At GetMaineLobster.com, Maine lobster enhances any meal and creates an unforgettable experience for everyone involved. GetMaineLobster.com's goal is to inform seafood lovers throughout the United States how they, too, can enjoy Maine lobster, which is why the team is explaining how live lobsters can be delivered next day from the dock to the doorstep using practices that are environmentally friendly.
First, Get Maine Lobster's lobstermen navigate the Maine coast to locate the freshest, sweetest live lobsters that Maine has to offer, sometimes spending days to find the best catch. GetMaineLobster.com is committed to the highest standards in delivering Maine lobster to America's doorsteps and takes the health of the environment and the Maine lobster industry seriously, using recycled packaging materials and working solely with Maine lobstermen who are committed to the sustainability of the lobster industry and engage in practices that ensure its health.
The sorting of the lobsters at the dock is the next step in processing, where the "dockers" separate thousands of pounds of lobsters to find exactly what customers order. GetMaineLobster.com adheres to the strictest guidelines to uphold its commitment to the sustainability of the Maine lobster industry, taking efforts to ensure that every lobster is treated with humanity and care.
After sorting through the lobsters, it is time to package them so that they arrive to the doorstep in good condition. GetMaineLobster.com uses solid gel packs to keep the lobsters cool throughout their journey. The shipping boxes, made of only sustainable, environmentally-friendly materials, are assembled to prepare for packing and sending the live Maine lobsters.
FedEx picks up the packages and keeps customers informed of its progress via a tracking number. GetMaineLobster.com enlists the help of Periship, experts in the logistics of shipping perishable foods, to monitor and execute on any issues that may delay the delivery of the live Maine lobsters. The packaging and shipping processes are executed with precision. In fact, the longest distance that GetMaineLobster.com has shipped its live Maine lobsters is 5,146 miles in less than 24 hours!
Experience live Maine lobster this Labor Day weekend and take advantage of Get Maine Lobster's Labor Day labor-less specials on live Maine lobster, Maine lobster tails and prepared seafood meals!
Learn more about Get Maine Lobster's wide range of seafood offerings, access lobster and seafood recipes, and view current specials by visiting GetMaineLobster.com or by calling (866) 562-4817. Stay updated and Like us on Facebook or follow us on Twitter. For even more lobster news and recipes go to JustAddLobster.com.
About GetMaineLobster.com
GetMaineLobster.com, a division of Black Point Seafood and Black Point Gourmet, hand-selects the finest Maine lobster, seafood and beef products for convenient distribution throughout the United States. Their passion is to make fresh, quality seafood readily available to customers across the country, which is why they buy from only the most trusted, well-established suppliers to ensure that they receive the finest products available.
GetMaineLobster.com was selected out of the more than four million small American businesses served by Chase bank to represent its new Platinum Business Checking product for its 2013 national advertising campaign.