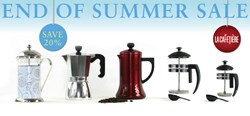 MLN Homewares are currently offering savings of up to 40% on a selection of their major brands in their summer sale but customers need to hurry as the sale ends at midnight.
(PRWEB UK) 27 August 2013
It seems the warm summer, the arrival of a royal baby and the UK's sporting successes have given Britons a reason to celebrate with a spot of shopping, with many larger retail stores enjoying their best July since 2006 according to Reuters (British Retailers Enjoy Best July Since 2006, 2013). Seasonal sales have become a popular phenomenon with many high street and online retailers offering promotions in the lead up to the end of summer in a bid to shift seasonal stock to make room for their autumn and winter range.
MLN Homewares have entered the retail sector with a bang. The business is just under a year old but is gaining real momentum with their exciting range of popular homeware brands from La Cafetiere, Gisela Graham, The Great British Bake Off and the vibrant Zeal kitchenware range to name a few. The online collection also includes a wide range of MLN Homewares own label products which are proving popular with consumers allowing them to snap up home accessories and kitchenware at seriously affordable prices.
Matt Binns, Marketing Manager at MLN Homewares, talks about the companies boost in sales over the summer. "We are working hard to make people aware of our MLN Homewares brand and to ensure our online store offers an inspiring collection of useful and stylish products. Our ethos is to bring to market good quality products at prices you expect from an online store. We've received some fantastic feedback praising our delivery and customer service and through our summer sale we are hoping to attract new visitors to give us a try. They won't be disappointed!"
MLN Homewares are currently offering savings of up to 40% on a selection of their major brands in their summer sale. Thomas and Fredrick, Art Slice and La Cafetiere are just some of the ranges featured but customers need to hurry as the sale ends at midnight on the 31st August.
With the UK coffee market now an estimated £2.1 billion according to Marketing Week (Quality Quest Keeps Coffee Sector Full of Beans, 2012) , consumers are choosing to spend more time and money on quality filtered coffee rather than drinking instant coffee. Renowned for working with some of the best designers the world has to offer, La Cafetiere's stylish range is hugely popular. Consumers can now enjoy 20% off the range in MLN Homewares end of summer sale, with some products available from £14.94 making it for a short time, one of the lowest prices currently available online. The iconic range of La Cafetiere is perfect for experiencing a little 'La dolce vita' at home.
For fans of the Great British Bake Off television series wanting to create a little baking magic in their own homes, MLN Homewares have recently expanded their range of baking equipment that is in hot demand. The range is embossed with the Great British Bake Off logo and MLN are offering the Great British Bake Off Muffin Tray and Pastry Brush Combo in this year's summer sale for only £20, along with the Great British Bake Off Mixing Bowl which includes a Free Zeal Silicone Bowl Scraper at a superb price of only £24.97.
With the UK's economic recovery continuing to gather pace and the IMRG reporting expected spend of more than £87 billion pounds online in 2013, consumers are benefiting hugely from exciting new online ventures like MLN Homewares who are creating product ranges in line with the needs of consumers at incredibly competitive prices.
Visit http://www.mlnhomewares.co.uk today to take advantage of these fantastic offers in their massive end of summer sale. Orders placed before midnight on the 31st August will be eligible for both sale prices and free delivery. Check the website for full terms and conditions.
MLN Homewares are the home of inspirational and stylish products and accessories for the home. From popular branded items including home décor accessories, bedroom products, bathroom items, and kitchen gadgets, MLN's mission is to offer great value on quality products and their online store showcases a variety of inspirational products aimed at improving homes across the UK.