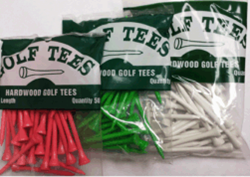 "GolfTees.com wanted to share this now, as retailers, golf courses and consumers stock up for the upcoming 2013 Holiday Season," said Warren Drucker, GolfTees.com CEO
Tamarac, Florida (PRWEB) August 27, 2013
Want a sneak peak at what golfers may be looking for in their stockings this coming holiday season? GolfTees.com, the largest online seller of golf tees, offers a sneak peak at their top five best-selling golf tees in 2013.
"GolfTees.com wanted to share this now, as retailers, golf courses and consumers stock up for the upcoming 2013 Holiday Season," said Warren Drucker, GolfTees.com CEO. In addition to their retail offerings, GolfTees.com has the most comprehensive wholesale program available for golf courses and retail outlets.
This Top Five list covers only those tees sold in standard retail packs. GolfTees.com also sells an enormous volume of printed tees with a either a personalization or logo, which are not factored into this list.
#1 Traditional Wooden Golf Tees. Old habits die hard! It's a traditional game, and the traditional tee still reigns. GolfTees.com's traditional wooden golf tee, in a variety of colors and sizes, remains the top seller. The 2 ¾" golf tee has become the new "standard" size, with the 2 1/8" golf tee used only for shorter iron tee shots. Many golfers today also opt for the even longer 3 ¼" tee that's also offered at Golftees.com in a variety of colors.
#2 Martini Golf Tees. Here's a golf tee that has taken the market by storm! Martini Tees have heads shaped like a Martini glass, making them extremely easy to tee a golf ball upon. Offered in several vibrant colors, Martini tees are all 3 ¼" long and difficult to break. In addition to the five-tees-per-bag format, GolfTees.com offers a 10-tee Mini Martini Shaker, a big favorite for gift-giving and events, and a super-sized Martini shaker with 150 colorful tees that's a great attention-grabber at golf shop check-out counters.
#3 Stepdown Golf Tees. These are traditional tees with an hourglass-like head that allows golf balls to be placed on a tee at a consistent height from the ground. This eliminates one of the many variables of the golf swing from a golfer's mind. These wooden tees are available in three popular sizes as well as three color options. Stepdown tees are also commonly referred to as "Step Tees" or "Castle Tees."
#4 Zero Friction Golf Tees. The high-performance tee leader, Zero Friction is best known for its popular three-prong version. According to the manufacturer, Zero Friction tees offer less resistance between the golf ball and tee, resulting in longer drives. Zero Friction™ Tees remain the #1 performance tee on the PGA TOUR™ with over 70 PGA TOUR™ victories. Available in a variety of prong formats, colors and sizes, there's a Zero Friction tee for everyone.
#5 Pride PTS Golf Tees. Pride PTS is a color-coded tee system whereby the color imprinted on each tee's shaft corresponds to a specific tee length. The most popular Pride PTS golf tees are the wood version, available in four different lengths with each length available in both white and natural colors. The longest of the Pride PTS golf tees is 4" long--the longest tee allowable by the USGA Rules of Golf. Two high-performance types of plastic PTS tees, the "Evolution" and "Offset" PTS tee versions, are becoming customer favorites.
ABOUT NAME IT GOLF, INC.
Name It Golf, Inc., located at 7629 NW 57th St in Tamarac, Fla. 33351, is a family owned and operated business founded in April 1999. The company is the world's largest online seller of personalized and logo balls and tees selling millions of logo and personalized golf products each year. Name It Golf Inc. owns and operates several golf related web sites such as GolfGifts.com, GolfTees.com, GolfSpikes.com, PersonalizedGolfBalls.com & LogoGolfBalls.com
NAME IT GOLF
Warren Drucker
Founder and CEO
800-203-4428 Ext 245
mailto:wdrucker(at)golftees(dot)com
MEDIA CONTACT:
Frank Drucker
COO
800-203-4428 Ext 145
mailto:fdrucker(at)golftees(dot)com