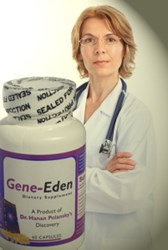 We were successful in developing a natural product proven to reduce HPV symptoms safely and effectively through a clinical study that followed FDA guidelines. - Mike Evans, polyDNA
Rochester, NY (PRWEB) August 27, 2013
For the first time, a new clinical study has provided evidence for the safety and effectiveness of a natural product for the treatment of HPV infection (1).
The study was published in the peer reviewed, scientific journal Pharmacology & Pharmacy, in a special edition on Advances in Antiviral Drugs.
This is very important since another study published in April of 2012 in the Journal of General Virology said that currently, "There are no antiviral drugs for the treatment of HPV infection and disease (2)."
"Current treatments (against HPV) include procedures, such as cryotherapy, conization, and the Loop Electrosurgical Excision Procedure (LEEP). These procedures use liquid nitrogen, a surgical knife (scalpel), a carbon dioxide (CO2) laser, or electrical current to remove the abnormal growths caused by the HPV. These growths include cells that harbor the active virus. The procedures do not target cells with the latent virus. Since they do not remove the latent virus, these procedures only produce a temporary remission (1)."
In addition, Cancer.gov says on its website concerning the two available HPV vaccines that they do not treat HPV in individuals already infected with the virus (3). Moreover, WebMD said, in a page last reviewed by Dr. Kimball Johnson, MD on August 13, 2012, that "These HPV vaccines are not foolproof. They do not protect against all of the 100-plus types of HPV (4)."
Further, the Gardasil website itself notes that "GARDASIL may not fully protect everyone, nor will it protect against diseases caused by other HPV types… GARDASIL does not prevent all types of cervical cancer… GARDASIL does not treat cervical cancer or genital warts (5)."
In contrast, Gene-Eden-VIR was shown to reduce HPV symptoms in individuals already infected with HPV. Study authors wrote that, "individuals infected with the HPV, …reported a safe decrease in their symptoms following treatment with Gene-Eden-VIR (1)." The study authors also wrote that "We observed a statistically significant decrease in the severity, duration, and frequency of symptoms (1)."
Mike Evans of polyDNA said, "We believe in natural products. There are many untapped opportunities in this field that deserve serious scientific research. We are very happy that we were both successful in developing a natural product proven to reduce HPV symptoms safely and effectively through a clinical study that followed FDA guidelines. As our mission says, polyDNA aims to develop and sell natural products that are as safe and effective as drugs."
To view the entire paper,
visit: http://www.scirp.org/journal/PaperInformation.aspx?PaperID=36101
We invite the media to contact us for interviews at: info(at)buy-gene-eden(dot)com or phone 585-250-9999.
###
References:
(1) http://www.scirp.org/journal/PaperInformation.aspx?PaperID=36101
(2) http://www.ncbi.nlm.nih.gov/pubmed/22323530
(3) http://www.cancer.gov/cancertopics/factsheet/prevention/HPV-vaccine
(4) http://www.webmd.com/sexual-conditions/hpv-genital-warts/hpv-vaccines-human-papillomavirus
(5) http://www.gardasil.com/about-gardasil/about-gardasil/
polyDNA is a biotechnology company that develops dietary supplements using the unique scientific method developed by Dr. Hanan Polansky, which is based on Computer Intuition.
In addition to his unique scientific method, Dr. Polansky published the highly acclaimed scientific discovery, called Microcompetition with Foreign DNA. The discovery explains how foreign DNA fragments, and specifically, DNA of latent viruses, cause most major diseases.
polyDNA developed Gene-Eden-VIR, an antiviral natural remedy that helps the immune system kill latent viruses.