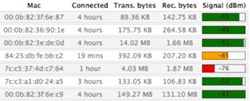 Real time usage statistics for our clients, has helped us be proactive in our support of our clients and provide a high level of customer service.
Milan, Italy (PRWEB) August 29, 2013
Tanaza, the first Wi-Fi Access Point cloud management SaaS for multi-vendor devices, introduced real-time statistics of connected clients, allowing anyone who needs to remotely provision and manage Wi-Fi clients to do it with extreme levels of efficiency.
Wi-Fi Access Points such as Alfa Network, TP-Link, Ubiquiti and other vendors can now be empowered and get an upgraded feature set: 8 SSIDs, RADIUS support, splash pages, VLAN tagging, real time status, email alerts. And today, also client visibility in real-time: the Tanaza Dashboard (cloud.tanaza.com) can be accessed from anywhere and shows parameters such as MAC Address of the client, AP and SSID to which the client is connected, session duration, bytes sent and received as well as signal strength in dB, very useful to remotely know if clients are not able to get a high bandwidth because of their distance from the AP or a high level of interference.
This feature does not require to have any hardware controller and is available for all the Tanaza Powered Wi-Fi Access Points, including Ubiquti, TP-Link, Alfa and more... a complete list of the devices for which it is available can be found here.
Brian Klaasmeyer, President of Social WiFi Marketing (http://SocialWiFiMarketing.com), a Wi-Fi Managed Solution Provider operating in South Carolina, states that:
"Social WiFi Marketing has wifi deployments across the entire U.S. and the ability to cloud manage a variety of brands and models of access points and routers with Tanaza'a cloud management product has been key in helping us grow our business. We have been a customer of Tanaza for over a year now and they have continually improved their product. The latest upgrade, which enables us to see real time usage statistics for our clients, has helped us be proactive in our support of our clients and provide a high level of customer service. The customer service we have received form Tanaza has been unparalleled to any we have experienced. Even with a 6 hour time difference they are always there for us when we need them."
Sebastiano Bertani, CEO of Tanaza, adds: "We are combining a cost-effective SaaS with a great support level, as we believe in a long term relationship with our partners. With Tanaza, Social WiFi Marketing can now run a world-class efficient infrastructure at a the fraction of the cost, with the flexibility to use low-cost hardware as well as high-performing devices, keeping all under control in one single place."
About Tanaza
Founded in 2010, Tanaza's mission is to make Wi-Fi management easy and affordable for everyone. A demo, free trial or quotation is available by contacting your local Tanaza Channel Partner or Tanaza http://www.tanaza.com, sales(at)tanaza(dot)com or +39 02.8718.8553.