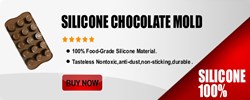 (PRWEB) August 27, 2013
TOGOHK.com, one of the world's silicone product manufactures, has recently released its new collection of silicone chocolate molds (see: http://www.togohk.com/?gallery=silicone-chocolate-mould), and announced a special offer on these new products, up to 30% off.
TOGOHK.com specializes in silicone cases, silicone tubes, silicone kitchen utensils, silicone bracelets, silicone seals and other silicone rubber products. The company has picked up modern manufacturing process, so that the company can have better consistency in the quality of the products, and achieve both price competitiveness and premium quality control. All these products go through a strict quality control system. Thanks to the innovative designs and 24/7 customer service, the company has become a leader in the industry.
"We are excited to launch the promotion, which is valid for 15 days only, or you will have to pay 30% extra costs later. Now, we are carrying most of the hottest silicone chocolate molds in the market," says, a spokesman for the company.
Besides the silicone chocolate molds, TOGOHK.com boasts of the most comprehensive silicone product catalog in the global market. Moreover, some new designs of silicone phone cases are currently part of the announced promotion.
About TOGOHK.com
Founded in 2003, TOGOHK has developed into a modern enterprise that offers its clients worldwide a one-stop silicone product solution from conception to delivery. With high technology engineering and advanced CAD and CAM, the company has been serving more than 3000 customers from over 70 countries.
For more information about the business, please visit their website at: http://www.togohk.com.