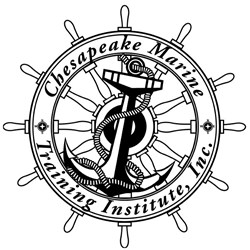 Gloucester, VA (PRWEB) August 27, 2013
Mariners who attend the Chesapeake Marine Training Institute job fair next month at its campus in Hayes, Va. will have an opportunity to meet with at least four professional marine companies looking to hire.
Confirmed vendors at the job fair include the Vane Brothers Company, Sea Tow Lower Chesapeake, Dann Marine Towing and Precon Marine.
Chesapeake Marine Training Institute staff and instructors will be available to work with job candidates on licensing and credentialing needs.
The job fair is scheduled for September 17 and 18 from 9 a.m. to 3 p.m. with vendors scheduling interview times with applicants on an individual basis.
Mariners are encouraged to register for the free job fair at http://www.chesapeakemarineinst.com.
Mariners of all license and credential levels are encouraged to attend.
One additional slot remains for marine companies who want to attend as a vendor.
Chesapeake Marine Training Institute will provide table display space for companies to meet and greet job applicants, as well as private rooms to interview potential candidates. Space to attend the event as a professional marine company is free, but limited and available on a first come, first served basis.
Applicants and vendors attending the event from out of the area are eligible to use the Chesapeake Marine Training Institute rate at nearby hotels.
Need more information? Contact Chesapeake Marine Training Institute directly at 800-642-CMTI.
About Chesapeake Marine Training Institute: Established in 1992, Chesapeake Marine Training Institute (CMTI) – a service disabled, Vietnam era veteran owned business – provides professional marine educational services to military and civilian mariners. While its modern classrooms and outdoor training area is located on George Washington Memorial Highway near Gloucester Point in Hayes, CMTI proudly also offers on-site training and home study programs.
In 2002, Marine Log magazine called CMTI one of the top maritime educational, recruitment and training resources in the nation.
Its instructors are seasoned mariners, holding a current U.S. Coast Guard License as Master with a minimum of five years at sea experience. CMTI's staff also includes License Consultants trained by the Coast Guard's National Maritime Center as Mariner Credentialing Agents. These agents serve as experts to help each mariner sail smoothly through their licensing application process.
Learn more about Chesapeake Marine Training Institute at http://www.chesapeakemarineinst.com or call 800-642-CMTI.