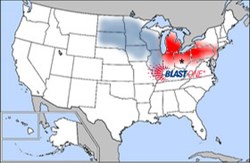 "We have many clients in the Dakotas, Minnesota, Wisconsin, and Iowa that will benefit from the expediency we can provide with new facilities in Chicago and Minneapolis."
~ Brad Gooden, Vice President
Columbus, OH (PRWEB) August 29, 2013
Columbus, Ohio-based Blast-One International recently opened two abrasive warehouses and distribution centers in Minneapolis, Minnesota and Chicago, Illinois. The warehouses will service the increased demand for garnet abrasive throughout the Midwest, Wisconsin, the Dakotas, Illinois and norther Indiana.
Company Vice President, Brad Gooden, explains, "Our Ohio headquarters adequately services the rust belt states with blasting abrasives, but we have many clients in the Dakotas, Minnesota, Wisconsin, and Chicago area that will benefit from the expediency we can provide with new facilities in Chicago and Minneapolis. Servicing our clients as quickly as possible while lowering their freight costs is a smart business decision and we're very happy we can accomplish both goals with these new distribution centers."
Blast-One International has been a leading provider of equipment to the Corrosion Control and Protective Coatings Industry for over 35 years. Their focus is on heavy industrial and they are a leading provider of garnet abrasive in the continental United States. With locations in the USA, Australia, New Zealand, and The United Kingdom, Blast-One strives to provide excellent advice and the fastest service and order fulfillment to its clients worldwide.