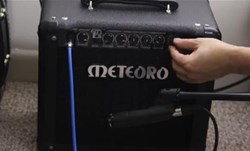 Los Angeles, CA (PRWEB) August 27, 2013
First, the guitarist plays his trademark snakeskin Spear guitar "clean," that, is, with no effects. Then he shows how to use amp effects, beginning with distortion, a gain effect that creates gritty sounds of varying intensities. In this amp demo, Johnson uses a setting that approximates the sustained tone of Pink Floyd guitarist David Gilmour.
Next, Johnson applies reverb, or reverberation, to simulate the simultaneous echoes produced in rooms of varying sizes, e.g., small hall, long hall, small room ambience. The effect is very popular with surf guitarists.
Another kind of echo, called delay, repeats a sound a set number of times spaced at set intervals apart. Johnson demonstrates the Meteoro's delay using chords, making them sound rhythmic while only striking them once. For great recorded examples of the use of delay, listen to the playing of the Edge of U2 or Albert Lee on his song "Country Boy."
Next, Johnson uses the amp's chorus effect, which mimics the effect of a choir or orchestra string section by mixing the original note with tones of very slight pitch differences to create a richer sound. Andy Summers of the Police used a very identifiable chorus sound. Phaser or phase shifter is next. This sweeping effect alters the original tone to make it phase in and out, almost like an AM radio at night that's not quite tuned in.
In his final example, Johnson shows off the flanging effect. This "jet plane" effect used to be created in the recording studio by recording a track onto two synchronized tapes, then intermittently slowing one down slightly by pressing on the edge or "flange" of its reel. It gives an almost watery effect.
This free online lesson appears at http://www.youtube.com/guitarcontrol under the title "Guitar Effects—How to Use Amp Effects Like Reverb, Chorus, Phaser, Flanger, Distortion." The site also features lessons from many other GuitarControl.com teachers.
GuitarControl.com, a leader in online music education, is the brainchild of Philadelphia guitarist Claude Johnson. Since 2004, the site has offered lessons taught by virtuosos in styles ranging from rock, metal and blues to jazz, bluegrass and country to classical, flamenco and fingerstyle acoustic. Its many DVD courses, include Supercharged Soloing Made Simple (to be released Sept. 4), Larry Coryell Jazz, Wicked Chicken Pickin' Chops, How to Play Smokin' Blues Guitar, and Gospel Guitar, as well as courses for singers, drums, bass and keyboard, and music software, song collections and jam tracks.