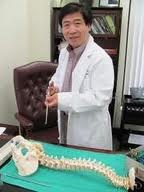 Without an accurate diagnosis of the malady and its location, determining the possibility of a successful procedure would be a wild assumption.
West Orange, NJ (PRWEB) August 30, 2013
At a spinal education seminar held this August, Dr. Kaixuan Liu discussed the need for more accurate diagnostics of back and neck injury causing acute and chronic pain. "Without an accurate diagnosis of the malady and its location, determining the possibility of a successful procedure would be a wild assumption."
Often, diagnosing a patient's condition is similar to detective work. You need to question the patient about how and when the pain started, look into their medical history, draw a few conclusions, and have the proper diagnostic tests performed to be certain of these.
Back pain diagnosis through imaging
X-rays, CT-Scans, and MRIs are the more common terms that are thrown around while discussing medical imaging, but what are they, and what purpose do each of them have in diagnosing back pain?
A projectional radiograph, also referred to as an x-ray, is used to determine if there is bone damage causing back or neck pain. Without an injection of dye, it is not able to accurately visualize nerves, and although it is great at locating cracks and breaks in bones, its ability to diagnose pain caused by other maladies is limited.
A CT Scan is an imaging device that takes multiple images or slices of a specific area in the body to create a two dimensional image of the area. Because of the dose of ionizing radiation is much greater than that of x-rays, repeated CT scans are limited to avoid adverse health effects.
MRI is an imaging instrument that uses a technique involving radiology to visualize the internal structures of the human body in great detail. MRI provides a good contrast between the different soft tissues in the body, not just bones. 2D or 3D images are able to be viewed.
Confirmation of diagnosis through injections
Once imaging has detected a problem it is important to further pinpoint the location of the malady. Injections that contain numbing agents can be applied in various different methods depending on the underlying issue. If an injection is given and the patients pain is relieved it can be assumed with confidence that surgery or specific treatment of the area would be of benefit.
About Dr. Liu: Kaixuan Liu, M.D., Ph.D., is a renowned endoscopic spine surgeon and founder of Atlantic Spine Center in Edison, New Jersey (http://www.atlanticspinecenter.com). Dr. Liu is certified by The American Board of Pain Medicine and The American Board of Anesthesiology, and is a member of The International Society for Advancement of Spine Surgery, The American Society of Interventional Pain Physicians (ASIPP), The American Academy of Pain Medicine (AAPM), The International Intradiscal Therapy Society (IITS), and The American Society of Anesthesiologists (ASA). He also serves as an international surgeon for The Spinal Foundations in England.