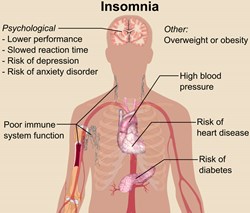 "Am I sleeping? Have I slept at all? This is insomnia."
- Chuck Palahniuk, Fight Club
Fairfax, Virginia (PRWEB) August 28, 2013
What is Insomnia?
Insomnia, which in Latin means "no sleep," is the inability to fall or stay asleep. Insomnia also refers to the condition of waking up and not feeling well rested or recharged. People with insomnia have one or more of the following symptoms:
Symptoms of Insomnia:

Trouble falling asleep regardless of being tired
Waking up often during the night
Difficulty getting back to sleep when awakened
Exhausting sleep
Depend on sleeping pills or alcohol to fall asleep
Waking up too early in the morning
Daytime drowsiness, fatigue, or irritability
Struggle concentrating during the day
Acute vs. Chronic Insomnia
Insomnia is the most common sleep complaint among Americans. It can be short-term (acute insomnia) or can last a long time (chronic insomnia). When insomnia persists for longer than a month, it is considered chronic. It can also come and go, with periods of time when a person has no sleep problems.
Causes of Acute Insomnia can include:
Significant life stress (job loss or change, death of a loved one, divorce, moving)
Illness
Emotional or physical discomfort
Environmental factors like noise, light, or extreme temperatures (hot or cold) that interfere with sleep
Some medications (for example those used to treat colds, allergies, depression, high blood pressure, and asthma) may interfere with sleep
Interferences in normal sleep schedule (jet lag or switching from a day to night shift, for example)
Causes of Chronic Insomnia include:
Depression and/or anxiety
Chronic stress
Pain or discomfort at night
About Pulmonary and Critical Care Specialists of Northern Virginia, P.C.
The physicians of Pulmonary and Critical Care Specialists of Northern Virginia, P.C. (PCCSNOVA) provide care for patients with a wide range of pulmonary diseases such as Asthma, Bronchitis, COPD, Emphysema, Lung Cancer and Pulmonary Nodules. In addition, their board-certified sleep specialists offer local expertise in a variety of sleep disorders such as Obstructive Sleep Apnea, Narcolepsy, Insomnia and Restless Leg Syndrome. They have been recognized as "Top Doctors" by Northern Virginia Magazine and Washingtonian.
References:
Joanna Saisan, M., Melinda Smith, M., Robinson, L., & and Robert Segal, M. (2013, June). Can't Sleep? Retrieved August 27, 2013, from HelpGuide.Org: http://www.helpguide.org/life/insomnia_treatment.htm
WebMd. (2012, July 29). An Overview of Insomnia. Retrieved August 27, 2013, from WebMd: http://www.webmd.com/sleep-disorders/guide/insomnia-symptoms-and-causes