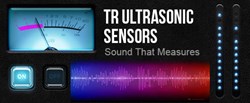 (PRWEB) August 29, 2013
TR Ultrasonic Sensors measure the propagation time of sound. This principle ensures a reliable detection regardless of color or surface finish.
Advanced Ultrasonic Sensors from TR Electronic can see through dust-laden air and ink mists. Even thin deposits on the sensor membrane do not impair their function.
Virtually all materials which reflect sound can be detected, regardless of their color. Even transparent materials or thin foils present no problem for an ultrasonic sensor. TR Ultrasonic Sensors are suitable for target distances from 30mm to 10m and as they measure the time of flight, they can ascertain a measurement with pinpoint accuracy. Some of our sensors can even resolve the signal to an accuracy of less than 0.18mm.
Sensors with a blind zone of only 20 mm and an extremely thin beam spread are making entirely new applications possible today, from filling level measurements of test tubes, as well as the detection of small bottles in the packaging industry.
When selecting a TR Ultrasonic Sensor for your application, it is important to consider the different operating modes and device configurations. TR Ultrasonic Sensors can have different electronics options such as temperature sensing and signal averaging. The right choice of sensor parameters will guarantee the best sensor performance for your application. For example: selecting lower frequency ultrasonic sensors will give you a longer range of detection, while selecting a higher frequency sensor will have a higher measurement resolution and less impact from background noise.
For additional information on TR Electronic's motion solutions, visit http://www.trelectronic.com. To speak with any member of their Customer Care Team, please call 1-800-265-9483 or email customercare(at)trelectronic(dot)com.
For a press kit or media contact, please contact:
Alejandra Valencia
Marketing Specialist
TR Electronic North America
(519) 452-1999
avalencia(at)trelectronic(dot)com
Matthew Scott, P.Eng, MBA, CMA
Director of Operations and Strategic Development
TR Electronic North America
(519) 452-1999
mscott(at)trelectronic(dot)com