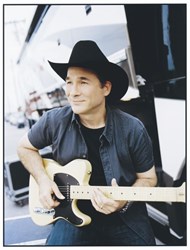 We've brought in more Signature Concerts with even bigger names.
Shipshewana, IN (PRWEB) August 27, 2013
Most evenings, the clip-clop of horse traffic is the only sound heard on the streets of this quiet Amish community. But step inside The Blue Gate Theater or the Shipshewana Event Center, and you may be in for a musical treat.
In a four-day stretch this August, music-lovers will be treated to the talents of Clint Black, the Annie Moses Band, Phillips, Craig and Dean and Mark Lowry. This incredible string of concerts continues the 2013 Blue Gate Theater Signature Series that features names like Marty Stuart, Larnelle Harris, Mandisa, and Ricky Skaggs. "This year has already been a breakout year for the Blue Gate Theater", says Director of Marketing Andrew Rohrer. "We've brought in more Signature Concerts with even bigger names." That's saying something in a town that that has hosted Amy Grant, Diamond Rio, and the Oak Ridge Boys.
On August 28th, the Annie Moses Band will kick off the weekend. The Annie Moses Band is an ensemble unlike any in America today. A blend of fiddle, jazz, and classical influences fused with soaring, folk-inspired vocals creates a sound that is both refreshing and familiar. The Annie Moses Band is a Julliard-trained family bringing classicism to the common man. With 1000+ hours of airings on PBS stations across the country (the highest debut for any artist on public television to date), a top-ten Classical Crossover album (Billboard Magazine), a bustling tour schedule of over 80 concerts a year before 100,000+ people, and a plethora of appearances in print and on television, this family is pulling new fans from across musical genres to their eclectic style of music making.
Phillips Craig and Dean will perform on the Shipshewana Event Center stage August 29th. With eighteen number one songs, 9 GMA Dove award nominations and 12 albums since they were formed in 1992, Phillips, Craig and Dean have become one of the most beloved contemporary Christian acts touring today. Their hits Let My Words Be Few, Let Your Glory Fall, and Top of My Lungs all drew from the musicians' work as full-time pastors, featuring as much emphasis on scripture as the music itself.
Mark Lowry brings his unique unique brand of humor and increadible gospel sound to the event center stage on Friday, August 30th. Mark has been making people laugh, cry and think for nearly 40 years. Singing publicly and recording albums and videos since age eleven, you could say that Mark has done this most of his life. Joining Mark onstage will be Christian Artist favorite Russ Taff and Pianist Stan Whitmire.
The four-night series closes on Saturday night, August 31st, with a show featuring Country Music Legend Clint Black. A prolific singer-songwriter; Clint Black has long been heralded as one of Country music's brightest stars. His many talents have taken him even further, as Black has transcended genres to become one of the most successful artists in all the music industry. To date, Black has written, recorded and released more than 100 songs, a benchmark in any artist's career. An astounding one-third of these songs eligible for major single release also achieved hit song status at Country radio, while more than 20 million of his albums have been sold worldwide. This acoustic performance will showcase Black's incredible guitar playing as well.
The Blue Gate Theater has earned a reputation throughout the Midwest and the nation as a top-notch family-oriented entertainment center. Tickets for all shows, as well as show packages which include dinner and overnight lodging at a partner hotel, are available online at http://www.bluegatetheater.com or by calling (888)447-4725.