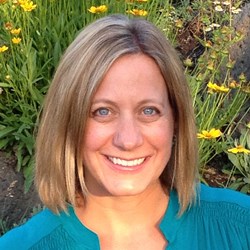 Real estate just tied it all together… my love for teaching people, interior design, home selection, selling, customer service, etc.
Vail, CO (PRWEB) August 27, 2013
Early this month, Doug Seabury and Scott Schlosser, owners of Access Real Estate of Colorado, hired one of Doug's former clients, Janet Powers. After recently completing a rebranding project, the real estate agency was eager to recruit fresh, new talent. Seabury immediately recognized Powers' professional, ethical, self-motivated and delightful demeanor. Coupled with her experience, background and success to date, Seabury was confident in their decision. Similarly, Powers was confident in hers. She completed her real estate training in early August and has been approved by the Vail Board of Realtors.
"We actually used Doug as our agent to buy a home in Eagle County. He didn't know at the time that I was assessing his techniques to see how he functioned as a broker," says Powers. "He made us feel so comfortable, and I loved his laid back, but professional attitude. There was no pressure. He made it easy. It was exactly the kind of experience I want to bring to my future clients."
Powers grew up in the Colorado mountains. She avidly recalls travelling the United States by car and camper when she was young with her parents and her four sisters.
"It's an experience that shaped who I am today and my love for the outdoors. Growing up, we also loved to get involved in any kind of projects for the home. If we could imagine it, we could design it, and my dad could build it! It's a great hobby and I've enjoyed turning it into a career and helping many friends/clients fulfill their visions for their homes," says Powers.
After moving to Denver and starting a family, Powers followed her passion for interior design and sales, and worked for Beazer Homes as a design consultant.
"I enjoyed it so much that I started my own interior design staging company so I could have a flexible schedule for my children. I loved helping people remodel their homes and prepare their homes for sale so that they could move onto something else," says Powers. "The fifty plus tips that are generated from my room-by-room evaluations have been proven to help clients sell their homes faster and for a higher price."
Meanwhile, Janet and her family spent more weekends in the mountains than in the city. After enjoying weekend getaways and holiday vacations in their family Cordillera home, they decided to make Cordillera their permanent residence.
"It's the best decision we've ever made for our family. The kids attend private school in Edwards and they both are very involved in sports, friends and outdoor activities. When we are not attending our kids' activities, we steal a few hours during the week to go for outdoor runs, bike rides and hikes. I can't imagine a better place to work and raise a family."
Finally, Powers transitioned her interior design skills into her current career as a real estate broker.
"I was so involved with the home owners/sellers that I realized I wanted to be involved in the buying process as well. Real estate just tied it all together… my love for teaching people, interior design, home selection, selling, customer service, etc."
"I'm willing to do what it takes on my part to make Access Real Estate successful. I am eager to provide my home-consultation services to all of our clients in addition to being a broker. It has been a wonderful process getting to where I am today. This is what I am meant to be doing for a career. It's always been a part of my life and I can't wait to share it with others," says Powers.
Access Real Estate of Colorado, formerly known as Eagle Valley Realty, is a real estate agency in the Vail & Beaver Creek areas of Colorado, assisting both buyers and sellers in commercial and residential properties.
###
For more information about this topic, or to schedule an interview with Doug Seabury, please call (970) 390 8786 or email seabury(at)vail(dot)net.