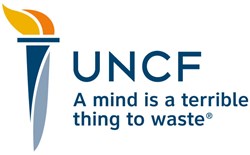 Houston, TX (PRWEB) August 27, 2013
UNCF (the United Negro College Fund), the nation's largest and most effective minority education organization, is proud to announce that Mayor Annise Parker will host and serve as the keynote speaker for its State of Education Luncheon on Friday, August 30, 2013. The event will take place at the Hyatt Regency in downtown Houston from Noon to 1:00 p.m. (check-in, 11:30 a.m.). The luncheon will bring together business, civic and education leaders of Houston to support UNCF's work to create a college ready culture that provides students with the support they need to get to and through college. Proceeds from the luncheon will create operating support for UNCF's Texas-based Member Institutions and scholarships for economically disadvantaged college students attending UNCF member institutions and other fully accredited U.S. colleges and universities.
"Ensuring our young people have a college education is more important than ever if we are to be competitive in today's economy. UNCF works to ensure our future leaders have the opportunity to obtain the college degrees they need, and our nation needs them to have," said Michael L. Lomax, Ph.D, UNCF President and CEO. "Investing in our students' futures will pay dividends for all of us as they become our next generation of leaders."
"As strong community partners we believe all students should have a fair chance at receiving a high-quality education which is why we joined forces with –UNCF by sponsoring these events," said Kerrick Henny, senior vice president, AT&T. "AT&T has been a proud national sponsor of this luncheon series since 2006. Through this partnership, AT&T has contributed $900,000 to UNCF in order to help financially assist kids who wish to attend college."
"It is my pleasure to host this inaugural luncheon celebrating UNCF's local impact for our youth," stated Mayor Parker. "Education is key to our economic growth. We must continue to improve upon the effectiveness of our higher education institutions and ensure that students who are willing to work hard have the opportunity to pursue a college education."
"CenterPoint Energy is a long-time supporter and friend of UNCF. For more than 25 years, our company has provided financial and volunteer assistance to UNCF. That is why we are proud to work with AT&T to help underwrite this event," said Gregory Knight, division vice president of Customer Service, CenterPoint Energy. "By supporting this event and the Mayor, CenterPoint Energy continues to invest in building a strong diverse workforce pipeline of students."
In addition to a keynote speech by Mayor Annise Parker, the program will also include greetings from Huston-Tillotson University's president, Dr. Larry Earvin and special remarks from a UNCF scholarship recipient.
"UNCF has had a long standing relationship with the Mayor's office. We are thankful to Mayor Parker for her continued support through her participation in this inaugural luncheon," said Juana Collins, area development director, UNCF. "Investing in the advancement of minority higher-education benefits our local communities, therefore it is imperative that we come together to help deserving students get to and through college."
The UNCF Mayor's Luncheon is presented nationally by AT&T and underwritten locally by CenterPoint Energy. Sponsor opportunities and individual tickets are still available. For more information, please contact the UNCF office: (713) 942-8623 ext. 8677 or via email at: jewell(dot)bass(at)uncf(dot)org.
About UNCF
UNCF (United Negro College Fund) is the nation's largest and most effective minority education organization. To serve youth, the community and the nation, UNCF supports students' education and development through scholarships and other programs, strengthens its 37 member colleges and universities, and advocates for the importance of minority education. UNCF institutions and other historically black colleges and universities are highly effective, awarding 21 percent of African American baccalaureate degrees. UNCF administers more than 400 programs, including scholarship, internship and fellowship, mentoring, summer enrichment, and curriculum and faculty development programs. Today, UNCF supports more than 60,000 students at over 900 colleges and universities across the country. Learn more at http://www.UNCF.org. Donations can be sent to UNCF's Houston office: 723 Main Street, Houston, TX 77002 or at http://give.uncf.org/Houston.