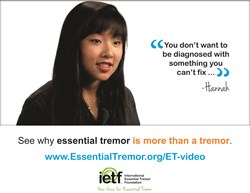 At these seminars people will gain a better understanding of their condition and what options for treatment are available.
Lenexa, Kansas (PRWEB) August 28, 2013
The International Essential Tremor Foundation (IETF) will host a seminar in Provo, UT on the life-altering neurological condition called essential tremor (ET). On Thursday, September 12, 2013 the IETF will visit the Provo Marriott Hotel & Conference Center, located at 101 W. 100 North. The program will run from 6:30 to 8:30 p.m., with a question and answer session with the physicians directly following the presentation. There is no cost to attend this seminar.
Essential tremor patients, family members, caregivers, and health care providers are invited to attend this special, educational seminar. Salt Lake Regional Medical Center physicians Elena James, MD (Neurologist with Special Interest in Movement Disorders) and David Nathan, MD (Neurosurgeon) will discuss the diagnosis process for essential tremor, commonly prescribed medications, surgical options, current scientific research, support groups and more. Attendees will be provided with an essential tremor information packet to take home and share with friends, family and their own health care providers. Refreshments will be served and parking is free. More information, including driving directions and event registration, is available by phone (toll free) at 888.387.3667 or on the web at http://www.essentialtremor.org/seminars.
"The IETF is dedicated to offering hope to those affected by essential tremor," explains Catherine Rice, IETF executive director. "The Foundation actively works to generate greater awareness of the condition, fund critical scientific research in order to fully understand the causes of ET and offer support to those affected by this life-altering condition. At these seminars people will gain a better understanding of their condition and what options for treatment are available. Hopefully they will also realize, as they look around the room, that they are not alone in this condition; that there are millions all over the world affected, just like them."
ET, which affects nearly 10 million people in the U.S., is the most common neurological movement disorder, but is frequently misdiagnosed as Parkinson's disease. The condition is often characterized by rhythmic, involuntary and uncontrollable shaking of the hands and arms during movement, making daily tasks such as eating, drinking and writing difficult if not impossible. Sometimes ET can also affect the head, voice, legs and trunk. At this time there is no cure for essential tremor.
About The International Essential Tremor Foundation:
Headquartered in Lenexa, KS, and founded in 1988, the International Essential Tremor Foundation is the leading organization in the world dedicated to those affected by essential tremor. The mission of the IETF is to fund research that will find the cause of essential tremor and lead to better treatments and a cure, increase awareness about ET, and provide educational materials, tools and support to healthcare providers, the public, and those directly affected by ET.
The IETF has distributed more than $685,000 in research grants, to fund 27 promising studies, in the search for the cause of ET. The Foundation has hosted numerous community awareness events across the U.S. to provide those affected with the basic knowledge necessary to become their own advocate when seeking treatment. And, the IETF also provides assistance to a vast network of support groups around the world. To learn more about essential tremor and the IETF mission, visit the IETF website at http://www.essentialtremor.org.
For comment/interview, contact:
Catherine Rice, Executive Director
info(at)essentialtremor(dot)org
888.387.3667
913.341.3880
# # #