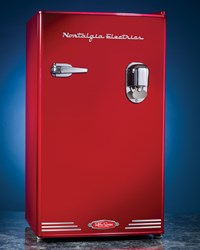 A lot of Nostalgia fans know us for our retro red refrigeration, but adding the dispensing feature is a whole new ball game.
Green Bay, Wisconsin (PRWEB) August 29, 2013
The new refrigerator from Nostalgia Electrics may look like something from the 1950s, but its features are perfect for the modern kitchen, office or dormitory. From the stunning chrome-detail and retro red outer surface to the compact but practical interior, the Compact Refrigerator with Dispenser is as eye-catching as it is convenient. The gravity-fed dispensing system takes consumers' beverage of choice from the interior tank to a waiting glass, all at the perfect chilly temperature.
"There's really nothing like this on the market at this price point, and that's only a small part of what makes this item such a great one," Rob Houston, Director of Product Development at Nostalgia Products Group says. "Many fans of our brand know us for our retro red refrigeration, but adding the dispensing feature is a whole new ball game."
The unit's namesake feature is easily assembled, and the beverage tank is easy to remove for cleaning. Inside, the bright interior lighting illuminates a slide-out wire shelf, a separate freezer compartment and a spacious vegetable/fruit crisper with a glass top. The full-range adjustable thermostat and adjustable feet make it easy for consumers to operate the unit with their exact preferences.
"We're very proud of this new unit, and it's just the beginning of a new way of looking at compact refrigerators," Houston says. "As more companies are following our lead in terms of our signature retro red, it's an exciting challenge to continue to come up with ways to stand out and offer new products."
Much like the '50s-Style .7 Cu. Ft. Microwave Oven released earlier in the month, the Compact Refrigerator with Dispenser follows a well-received line of more basic units in red and in black, with specialty colors available in limited quantities at certain retailers.
The Compact Refrigerator with Dispenser will be available at online and in-store, with a base retail price of $199.99.
RRF300SDDRED Product Features:

Deluxe chrome detailing
Distinctive retro red coloring
Bright interior lighting
Fruit/vegetable crisper
1 slide-out wire shelf
Full-range adjustable thermostat
Separate freezer compartment
Adjustable feet
The RRF300SDDRED by Nostalgia Electrics is distributed by:
Nostalgia Products Group, LLC
1471 Partnership Dr.
Green Bay, WI 54304-5685
About Nostalgia Products Group, LLC:
Nostalgia Products Group, LLC, designs, manufactures and markets the Nostalgia Electrics brand of small electric appliances, a wide range of innovative products with a history of exciting consumers and retailers alike.
NPG products are sold through all major channels of distribution from both within the United States and to over 30 other countries. Retail and e-retail sales include all major department store chains, home shopping networks, catalogs and e-commerce companies, and the company's products carry the GS and SSA electrical approvals internationally. In addition to product development, NPG's services include sales, marketing, warehousing and distribution. For more information, please visit Nostalgia Products Group, LLC online at: http://www.nostalgiaelectrics.com.
For more information, please contact:
Sales and Marketing
Nostalgia Products Group, LLC
Phone: 920.337.9800, Fax: 920.337.9984, E-mail: gbond(at)nostalgiaelectrics(dot)com
For media inquiries, please contact:
Karilyn Robinson
Nostalgia Products Group, LLC
Phone: 805.337.9800 x153, E-mail: krobinson(at)nostalgiaelectrics(dot)com