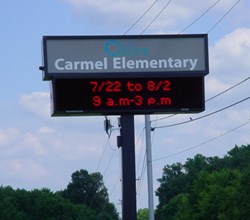 We're seeing an increase in the number of LED message signs purchased by schools of all sizes.
Clarksville, TN (PRWEB) August 28, 2013
The school doors are opening once again and Carmel Elementary in Clarksville, TN is kicking off the school year with a new LED sign to welcome parents and students. Signs Now Clarksville welcomed the opportunity to provide and install the new school LED sign in time for the 2013 school year.
"We're seeing an increase in the number of LED message signs purchased by schools of all sizes: elementary, middle, high and colleges," says Dick Pryor, owner of Signs Now Clarksville. "With today's technology, old-fashioned signs with changeable plastic letters are out of date and just no longer practical. LED school signs can be much more informative and easier to update."
The mission of Carmel Elementary is to prepare lifelong learners by inspiring a tradition of excellence. With this new LED message sign, the school feels that 'efficiency of communication' will help uphold this tradition allowing them to reach out more readily with the community for support and involvement.
Mr. Pryor continued, "An LED sign enables a school to communicate more effectively with their students, parents, staff, and community, improving the school's ability to display announcements in real time."
Signs Now of Clarksville installed a Raven™ Grayscale Series LED sign manufactured by Vantage LED in Corona, CA. It features the powerful Darwin™ Industrial Control Unit that can handle the most demanding high resolution video and graphics. The elementary school controls the sign using the simple, yet powerful, LightSpeed™ LED sign software. The software is user friendly with an intuitive, simple interface packed with advanced features to please everyone from the most basic to the most tech savvy user.
Mr. Pryor stated, "We partner with Vantage LED not only because the hardware is solid and the software is simple, but because the people are genuine. Kyla, our sales rep, is always excited to help. She reaches out to us often to make sure our needs are always met. We love Kyla."
With the dedication of Signs Now Clarksville and the reliability of Vantage LED, Carmel Elementary has the tools and support they need to effectively communicate to their community.
About Signs Now Clarksville:
In 1983, Signs Now pioneered the computer-designed signs concept and led a revolution in the way signage is produced. Today, the professional team has access to the most advanced training systems and technology in the industry. As a result, they provide the special care and close personal attention clients can expect. They are committed to ensuring a client's business stands out from the rest with high quality signs, banners, digital signage solutions, and tradeshow displays.